Post by Potatoprime on Mar 4, 2009 14:08:31 GMT
Not a new figure But a review I've been wanting to do for a while.
Towards the end of the first run of Classics Hasbro put out a two figure set exclusive to the Target store chain I believe.
This set was called the "Battle for Autobot city" and contain repaints of the Prime and Starscream molds As Skywarp and Ultra magnus. Ultra magnus being depicted as the Unarmoured cab (thank you SO much for that Dreamwave ¬_¬).
Now like most I bought the set for the Skywarp figure (Seekers gotta catch em all). And regarded Magnus as a meh repaint.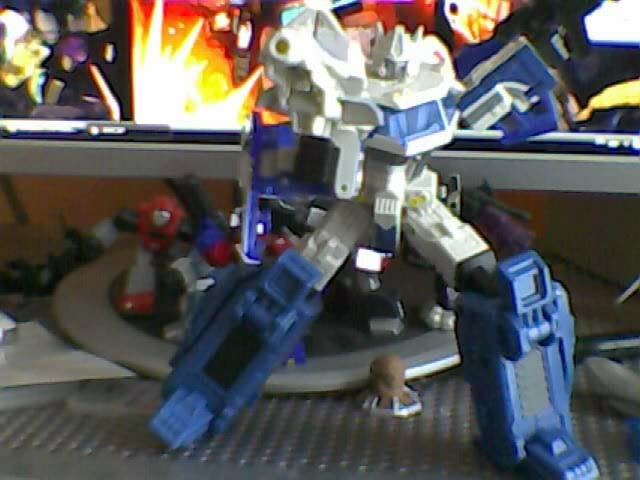 A decently poseable figure but far too bland for my liking. A few more paint apps wouldnt have gone amiss.
As u can see hes easily outclassed by his "brother" Prime
Like prime he transforms into a truck of the cab over engine variety.
Not a bad figure but like i said a little boring.
Now if Hasbro had had their way that would be the end of the story as far as Classics Ultra magnus was concerned.
Enter Fansproject.
They saw the gap in the collectors market and created, from scratch, a trailer for our poor naked city commander.
Within this unassuming little box is the most awesome add on kit created thus far in my opinion.
Packed in trailer mode this set is a solid weighty piece of kit
Fansproject did an amazing job matching the colours to the Magnus cab.
Sadly there is no swivel to allow the cab to turn but thats a minor minor complaint .
It comes with some nice little touches such as a licence plate on the rear that folds closed to hide it in robot form
To tranform the trailer to armour mode it disassembles into 9 seperate parts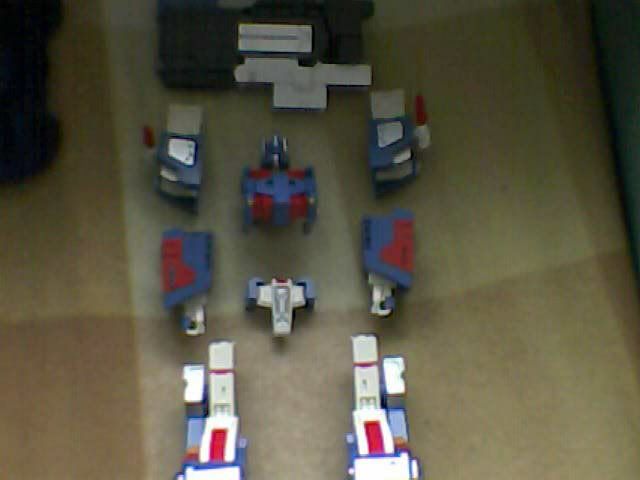 To see how it all assembles look here
www.youtube.com/watch?v=NcZvPgNcHI8
Ultra magnus in his armoured form is magnificent ! The parts attach securely and fairly encapsulate the figure . the only parts of the figure to show are the arm doors , the backs of the thighs and the grill+ wheels on the back.
the head sculpt is nice and is consistant with the classics stylings
He comes armed with a stupidly huge BFG that can transform from cannon mode to rocket launcher mode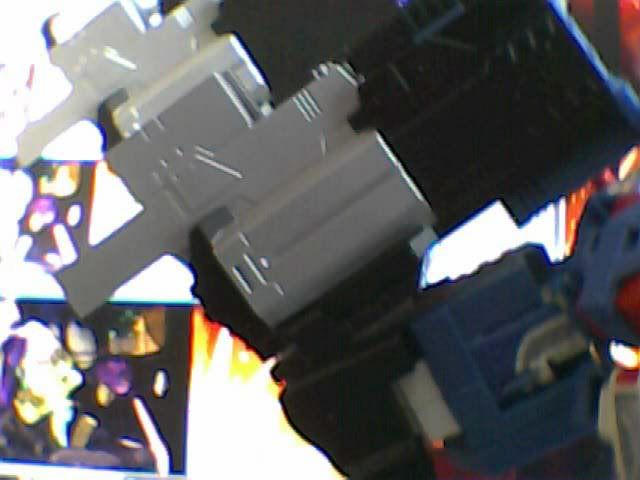 the gun is rather heavy and if ur magnus's arm is in any way loose it will not hold it. But u can rest it on the hip tab and it'll stay aimed no problem
The armour adds a good deal of heft and height to the figure changing it from a small voyager to an ultra class figure .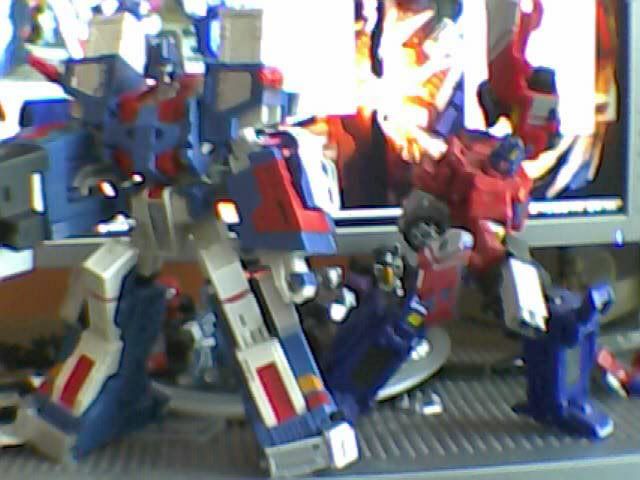 Not so outclassed by Prime anymore

.
Surprisingly he retains about 90% of his posability losing out in the arms a little. He gains a neck joint and pivoting ankles.
Also included with the figure is a comic book which also acts as instructions for the set.
All in all a worthy addition to your collection IF you can find him (not too likely outside of ebay) and IF you have the classics magnus (torment Jay for one if you dont
).
I picked my set up from modelmania for a very reasonable sum
If u cant get the city commander set it has recently been repainted as the Shadow commander for the nem prime version of the mold And will be repainted once more for the Prime version. Though this sadly will very be mass released as it is an exclusive for TFcon toronto and limited to 500 pieces
A solid 9.5 out of 10. It loses a half point for not coming with the shoulder rockets. I had to make the ones that are on it .