Post by Potatoprime on Aug 6, 2010 13:52:07 GMT
Huffer is the pcc figure i was most excited about when they were announced as , like most transfans i love the whiney little truck from G1. So does this figure live up to my expectations ? Kinda yes and kinda no. I'll explain. It's a decent figure sure enough. It's just not a very good Huffer.
Lets start with bot mode as that's what he's packaged in.
He is primarily orange with silver ,black and blue detailing. There is a red Autobot logo to one side of the chest but (at least on mine) its a little lopsided.
It does a fairly decent job of recreating huffer,s colour scheme from the show. The head however spoils the illusion. It's quite simply not huffer
Articulation is pretty much what you'd expect from a scout class figure ball joints on the shoulders and elbows and roating and hinged hips with hinged knees. Head can roatate and has ver minor up and down movement.
Transformation is very very simple . Peg the legs together ,swing the arms back and your more or less done.
I do like the truck mode. It rolls well enough. Theres a minicon port on the bed but I'll get to that a bit later. Black Autobot symbols on each door. Really wish they had been red.
As with all the Pcc commander figures Huffer has a third Torso mode. This mode is stellar! Everything pegs togther nicely and you get a very nice looking torso. The general layout of the figure and the head sculpt scream "I am a Menasor homage"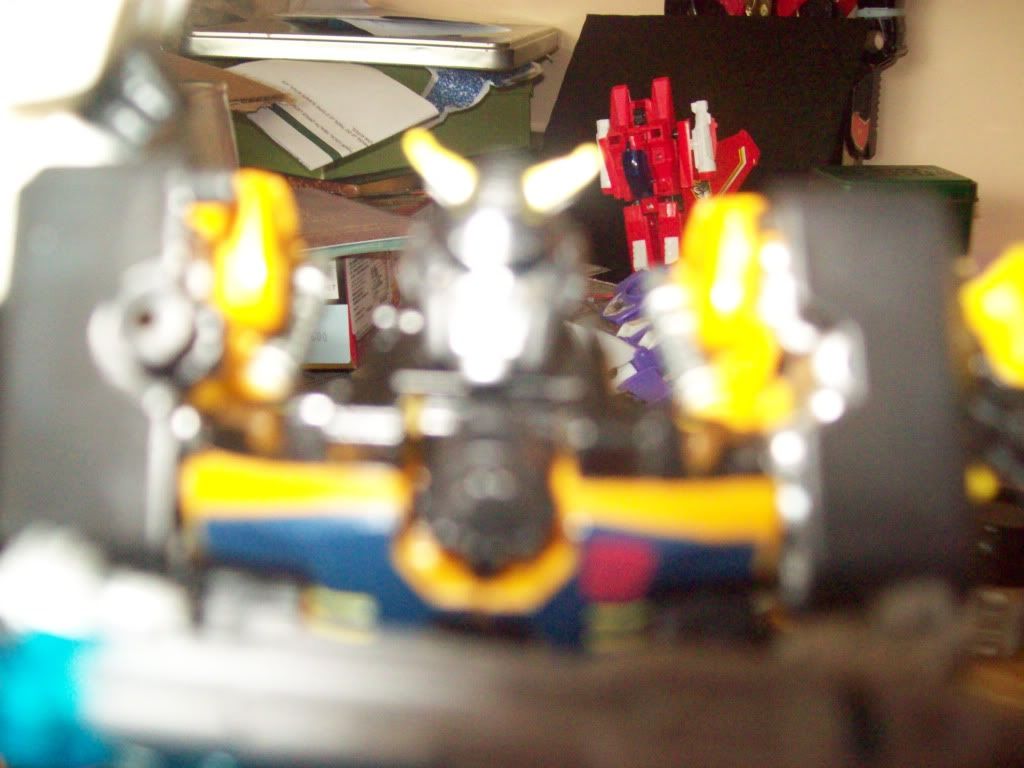 Looks great with the drones attached.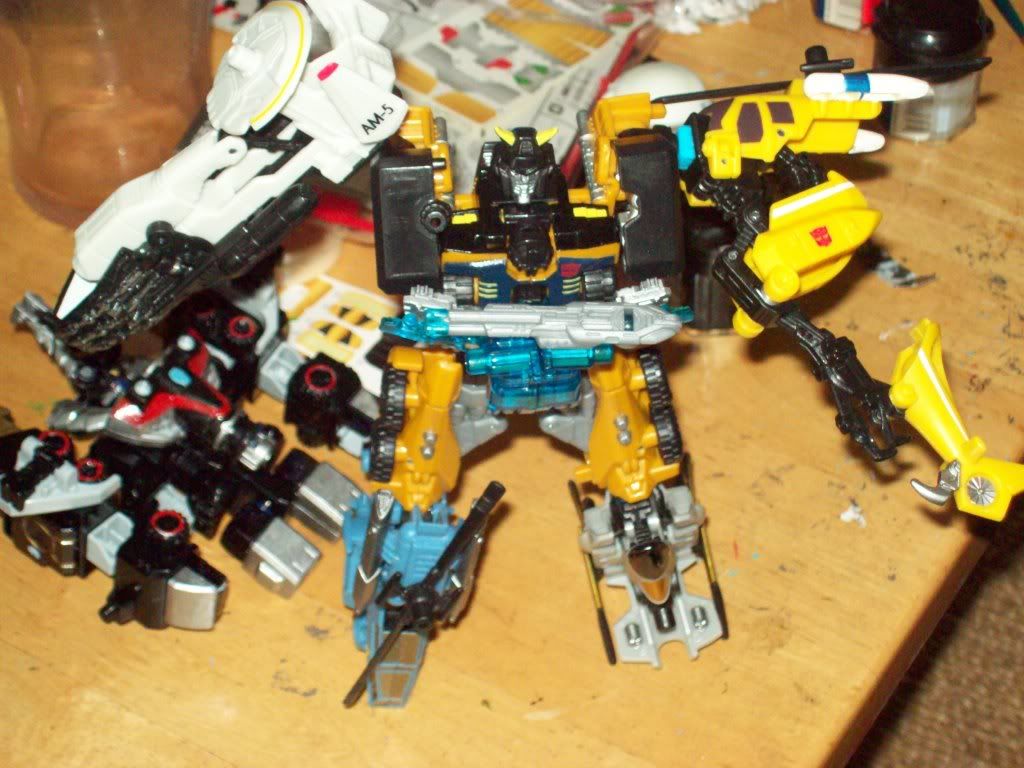 Why the black repaint is not coming with repainted rally drones is a mystery to me as it would be an amazing menasor lookalike.
Aritculation is fairly basic here but thats due to the drones more then to Huffer.
Now on to Caliburst. I knew i was gonna hate this thing when i saw the promo images. Its marketed as having 4 modes. IMO it doesnt even pull off one of them well.
Robot mode. smurf bot with stupidly huge gun arm
arms go up and down and some hip and knee joints.
"Gun" mode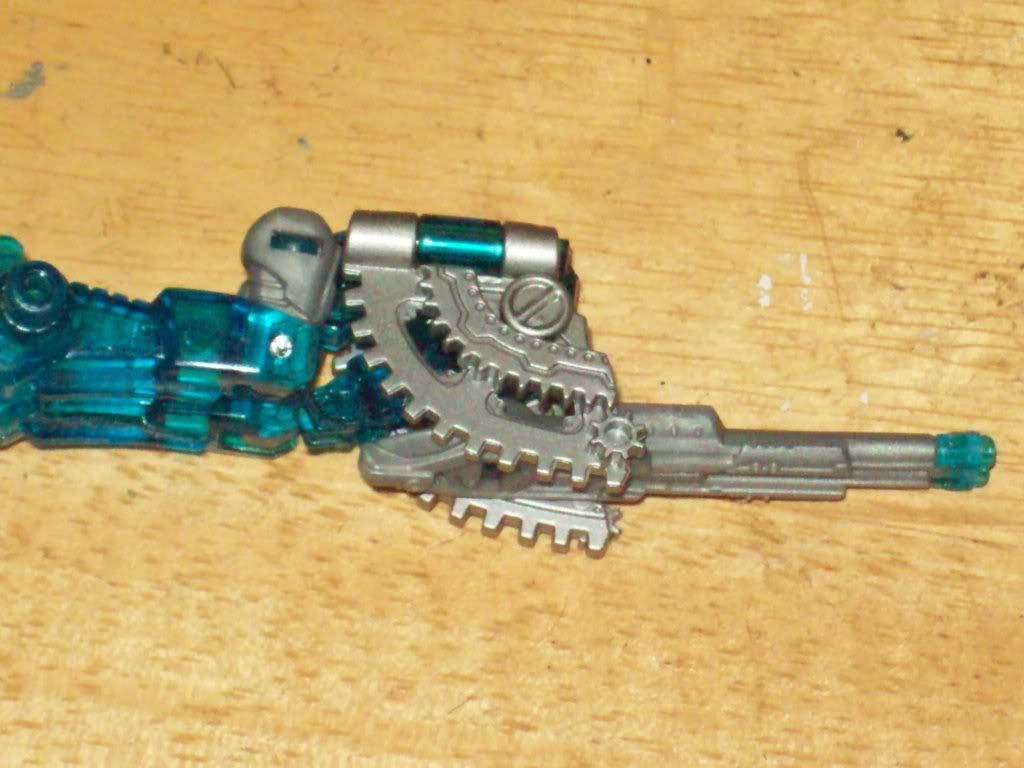 Sorry hasbro but this is not a gun! Nightstick has proven you can do much much better then this. It plugs onto the peg on huffer right arm as a sorta underslung cannon thingy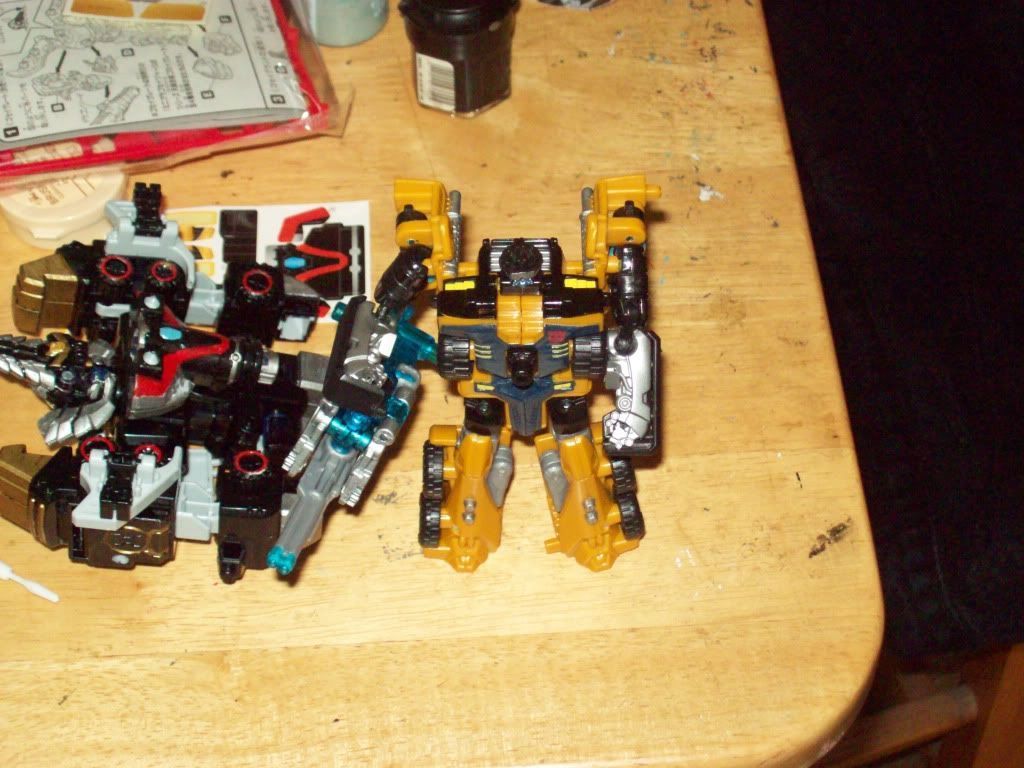 Vehicle gun mode. more ofthe same with legs folded out at its base. Attaches to the peg on the bed of the truck. Looks like some sort of artillary emplacement. Marginally better looking then the bot mode gun
Armour mode. This thing looks ridiculous
Attaches to a flip out peg on huffers chest.
The Mincon suffers IMO from trying to do too much and ending up accomplishing nothing well.
I think if anything had pegged together in any way, shape or form it woulda worked better Also the armour mode is epic fail and shoulda been ditched at the planning stage.
Huffer is worth getting if , for nothing else the torso mode to replace skyburst ,or double cluth or whichever of those attrocities you end up buying Caliburst drags the score down a bit becuase of his sheer crapiness 7/10