Post by Potatoprime on Aug 30, 2010 15:45:42 GMT
Straxus Is a half track tank/Artillery vehicle
Colours are Blue with grey on the weapons and tip of the cannon and silver for the headlights he has M 17 on the turret and front of the tank. A nice nod to Straxus' original appearence in issue 17 of the marvel comics. there is also a gold section on the front of the tank
This mode is solid. nothing flaps around like the Galvatron tank.
The turret moves 360 degrees as well as letting the barrel move up and down. Something that has been severly lacking in transformer tanks.
The tank has a total of 9 hardpoints for the universal clips that seem to be appearing on more and more transformer weaponry
The figure itself comes with 3 weapons that can be attached to any of these points meaning you can create a look that suits you. Handy for repaints.
This figure is marketed as a triple changer. There seems to be some disagreement as to what this third mode actually is. Some say its a gun emplacement while others seem to think its a tribute to Straxus' flying gun mode from the comics.
I'm in the weapon emplacement camp as it appears to have handles for another figure on the back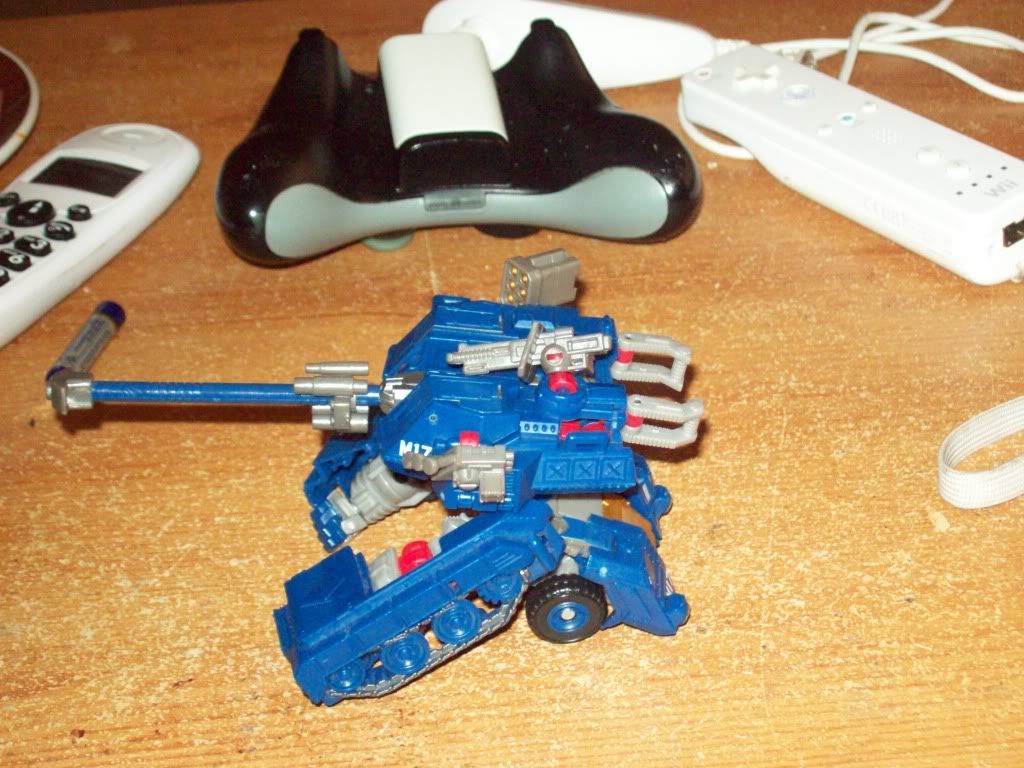 Transformation to bot mode is satisfying and has none of the problems the galvatron figure had with parts flying off if you looked at them funny . The way the turret unfolds into the legs is genius and the panels close up behind them to create a solid leg.
Robot mode is fantastic. A very very close likeness to straxus
A lot more colour is revealed in this form. Mostly red on the upper arms and decals on the chest and upper legs.
I love this head sculpt
There is sculpted detail all over this figure gears and hydralics under the turret and even lines and panel detailing on places you wont see as they are covered by parts
All the triangles from his comic legs are also sculpted in
The head has detailing in the cheeks and in the mouth area (you have to look quite closely to see it ).
Articulation. He has a ton of it . Balljointed shoulders with a rotation joint just below double hinged elbows balljointed wrists and hinged fingers. Ball jointed head. Waist swivel. Ball jointed hips. Knee hinges and rotaion just above the knee. Ball jointed feet. I was extremely worried when i saw pics of those feet as I thought they may be floppy. Thankfully I can report that they hold just about every pose I've put him in.
He can heft his battle pick with both hands. I love how hasbro are making more and more of there transformers with melee weapons be able to do this. The best part about his pick / The shaft is solid plastic and not rubber unles sthe very ends of the picks are rubbery and even they feel more sturdy the drifts swords
Heres a quick size comparison with Drift and Galvatron
So hes not that short. And hes designed in such a way that he looks bigger then he is in person
So is he worth getting ? HELL YES !! He's easily the finest con deluxe. Well worth paying even import prices for him
10/10