Post by Potatoprime on Jun 6, 2011 11:08:53 GMT
Towards the end of the Energon series Hasbro brought back the Gestalt teams in the form of teams with a DX class leader and 2 sets of repaints as limbs. We got new Arielbots ,Constructicons and Combaticons. 2 of these sets were repainted and intended for the Universe line, Superion and Bruticus. The universe coloured sets were then brought into the ROTF line for their eventual release. These sets were, to be polite, mediocre at best. Enter Fansproject.
They first released the Ariel team appendage set which gave the Superion set new weapons and their combined form better proportions and new hands and feet. Then Fansproject turned their attention to Bruticus. What they produced is considered by many to be their masterpiece. This review will be split into three parts to address each aspect of the set.
First up we have Blast off or Explorer as he goes by to avoid Hasbros lawyers.
Out of the box Explorer comes with the combat appendage set A. This consists of
: The left foot
: Double barreled cannon
:Grenade Launcher
:Large machine gun
:small machine gun
:2 missile racks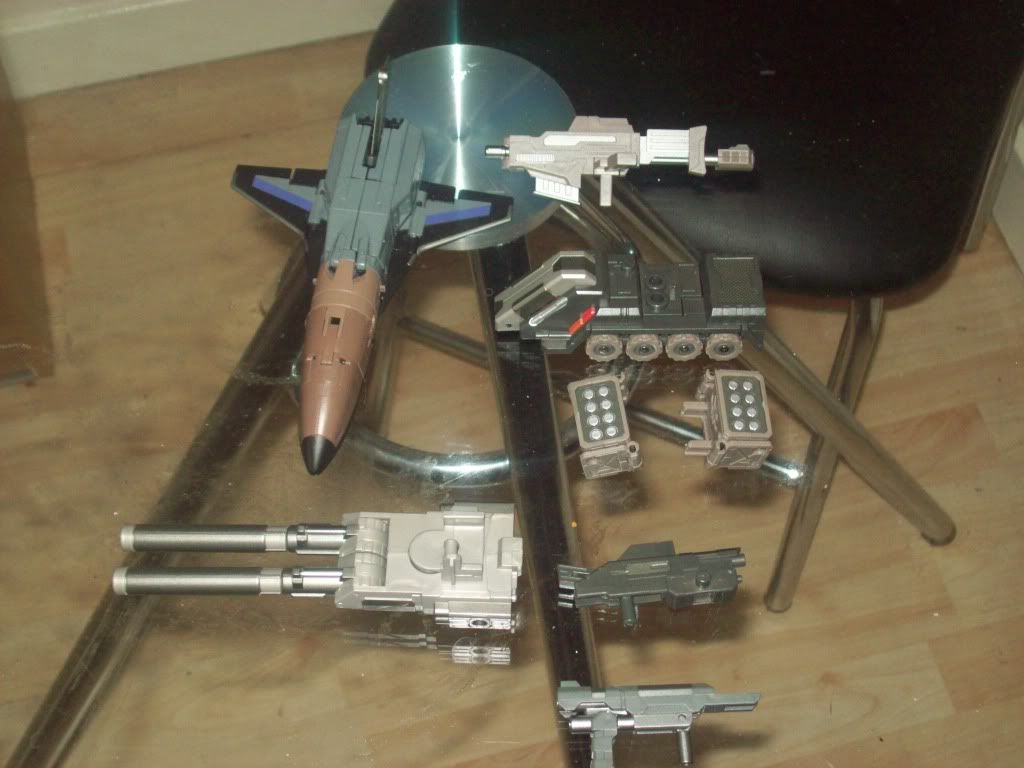 He comes packed in shuttle mode so ill begin there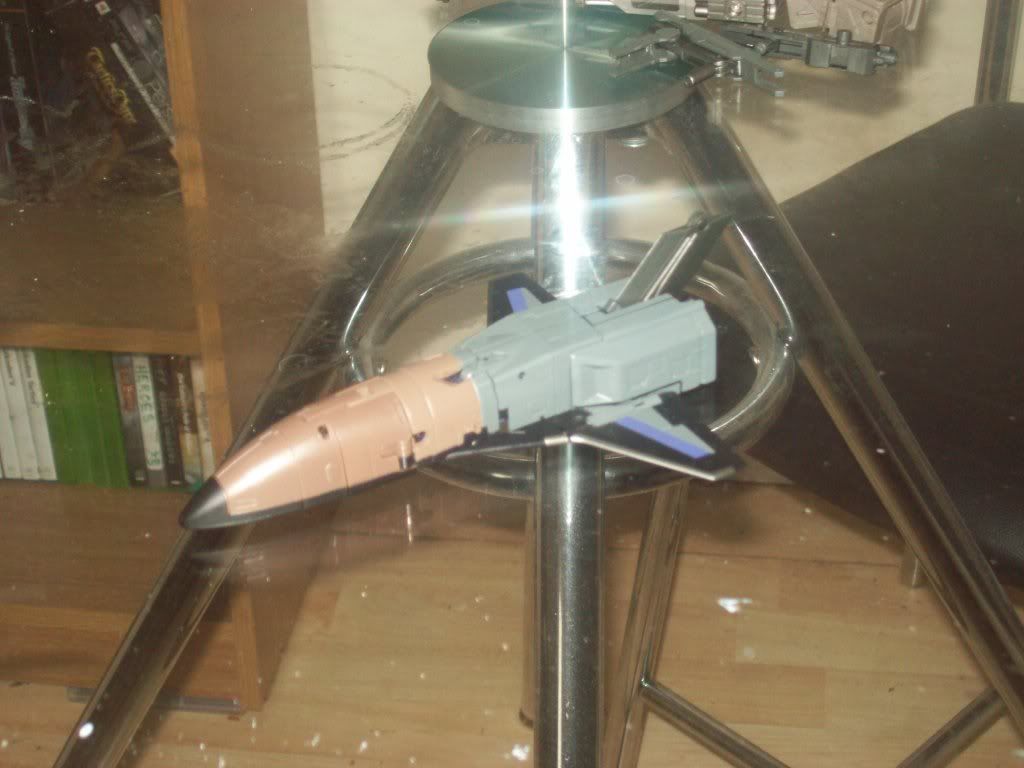 His alt mode is an unmanned shuttle drone. Colours in this mode are primarily grey ,brown and black with purple and silver apps on the wings. For a scout sized robot this is a fairly large alt mode. There is a nice level of detail all over with little hatches and panel line molded in along the length of the fuselage. Also very little robot kibble with only the robot fists being visible. My one gripe with this form is that it has no landing gear. A minor quibble at best though.
Transformation to robot mode is simple enough but with some neat touches such as the sections of wing that rotate to frame the chest (but those parts are extremly sharp) and the way the back of the fuselage move up onto the back to form armor. The arm reveal is also pretty nice with swiveling panels on the upper arm.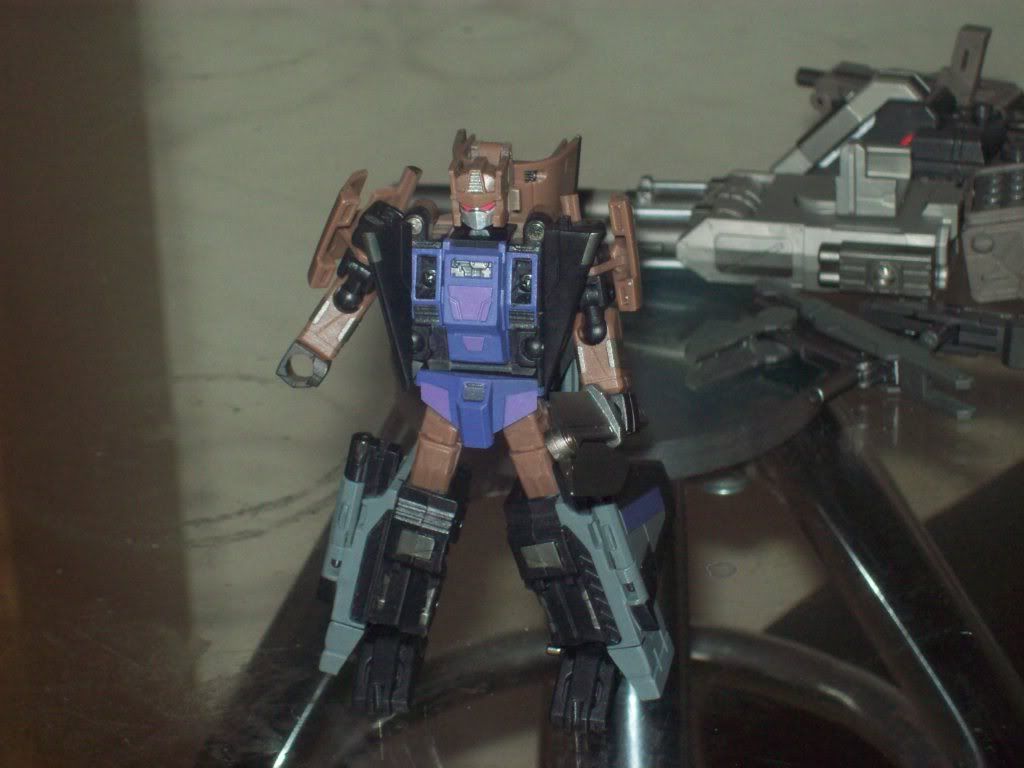 The Explorers robot mode is phemoninal. Nice clean lines and a ton of character. the only new colours in this form are a bright silver on the face and red for the eyes. His main weapon is an axe formed from the tail fin of the shuttle. The blade of the axe can extend to form a sword (I dont think that was intended for this form but looks cool none the less)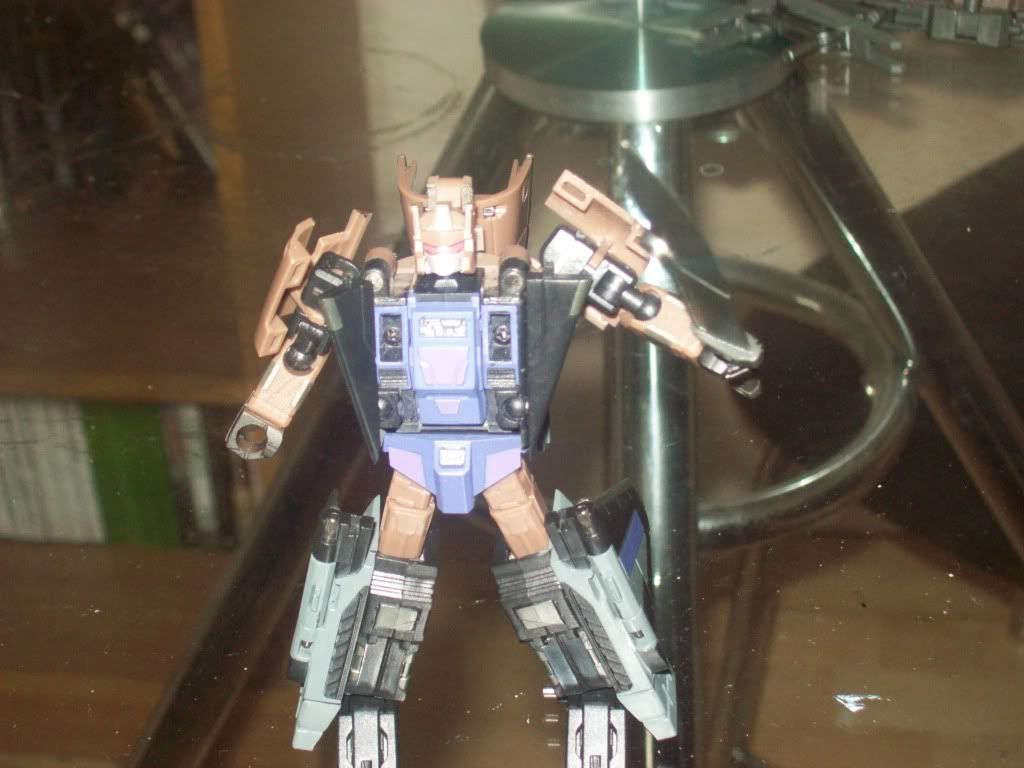 Poseability is exceptional for such a small figure. A very free balljointed neck, balljointed shoulders and elbows. The elbow also has a hinge. A heavy ratchet waist with balljointed hips,thigh swivels,hinged knees and balljointed feet complete his jointage.
The face for Explorer is another high point. He looks angry..really angry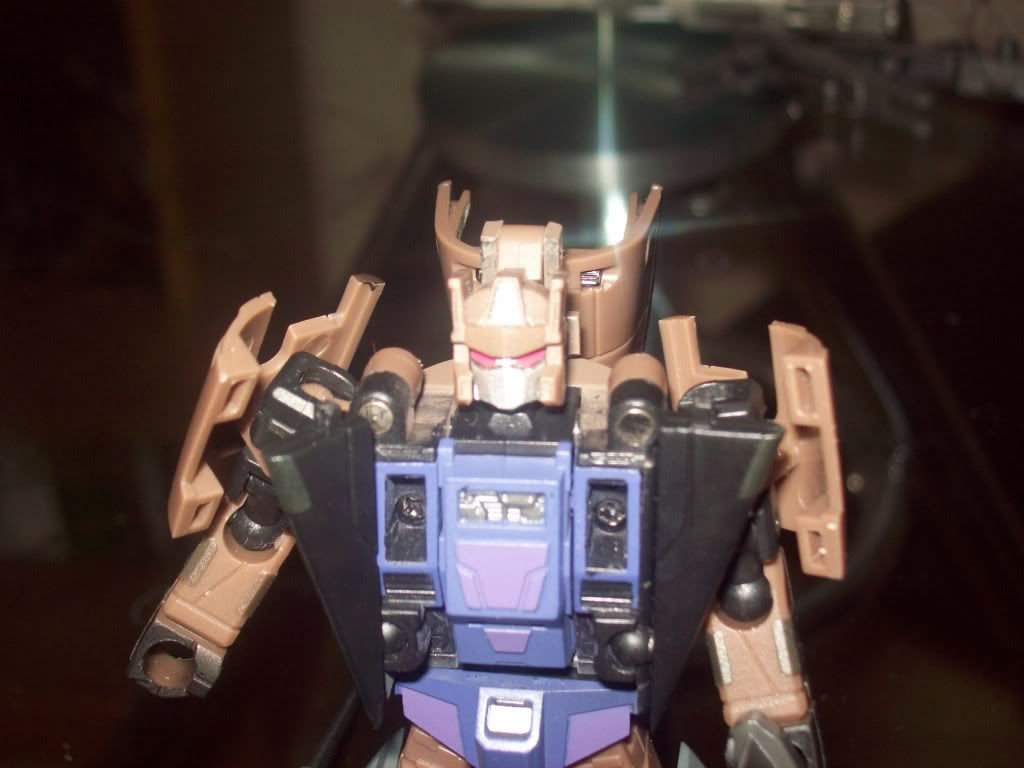 I love that they kept the basic shape of a scramble city style limb head and gave it so much character
The figure can also use many of the weapons from the appenage set
He can also use the large double barreled cannon but looks kind of silly doing it
So is the figure worth the money. He is very expensive for a basic sized figure but he is an AMAZING basic. Having said that he is a combaticon that few care about so he doesn't have the added draw that Munitioner has. If you have the Bruticus Maximus set in any of its forms then yes, absolutely you need this figure. If not you might want to consider his cheaper repaint Flameblast
I give this figure 9.5/10