Post by Rodimus Prime on Apr 4, 2009 17:05:41 GMT
Transformers ICON Review
Generation One Sixshot
The one Decepticon living weapon. One of the most loved Transformers characters of all time, Sixshot is known, predominantly thanks to IDW, as the last resort. When you want a planet raized, you go to Sixshot. When you want the Autobots wiped out, you go to Sixshot.
Lacking even the most fundamental depth and personality in his US cartoon debut(and even less in Marvel comics) and being something of an enigma in the Japanese Headmasters season(laughably classified as a Ninja Consultant in the infamous StarTV dubs), Sixshot had never been fully given the exposure that us Westerners have craved.
His concept was used time and again, but only really in the Takara seasons of Super God Masterforce and Victory as Quickswitch(allegedly his son), Sixknight and Greatshot but none could ever measure up to the original version.
He also made a couple of appearances here and there, most notably in the Dreamwave revival where he was seen only in one of his vehicle modes, being comandeered by the Dinobots.
Interest has been renewed in the Decepticon warrior, courtesy of IDW's exposure and use of him in his own Spotlight and his subsequent appearances in Escalation, Devestation and (albeit insignificantly)Revelations.
Large. Imposing. Rare. Expensive. Even his reissue is all of these things.
He is the centerpiece of my G1 collection.
Generation One Sixshot - Space Jet
Sixshot comes packaged in this mode.
This configuration is easily the largest and best of his 5 non-robot based modes. The wingspan is impressive, the length of the craft likewise. One thing that's really great about this toy is that, unlike alot of his peers across the Generation One line, his weapons can be stored directly on his body. This means that in theory, you'll never lose anything. The same can't be said for the likes of Metroplex or Starscream.
The colour scheme in this mode is black and purple for the nose of the jet; with metallic stickers of gold, red, silver, black and turquoise; for the main body of ship we have white, black, purple, with similar metallic stickers and the same turquoise; the wings are grey and the fins are black with the same stickers and the whole body is dotted with chrome detailing.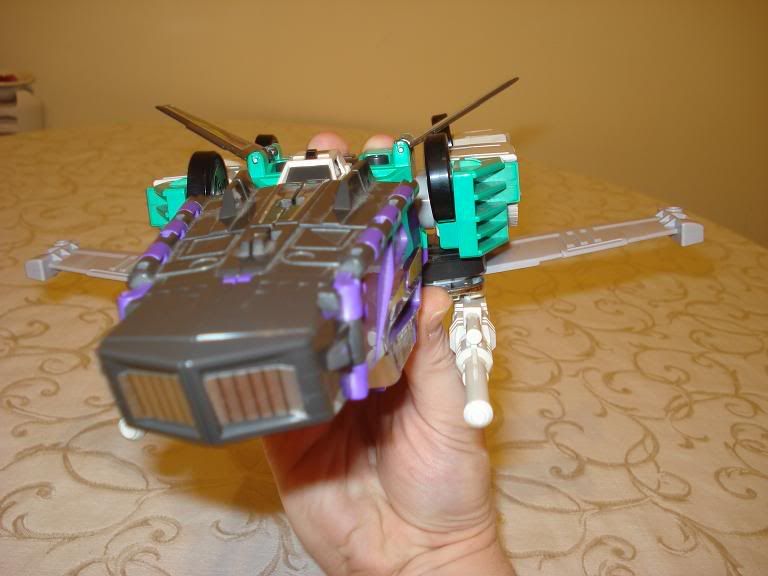 It's a sturdy vehicle mode that has quite alot of detailing. Alot of wheels and hinges are less concealed than the likes of Prowl, Soundwave or even Galvatron, but you can understand and appreciate this when you take into account that he turns into 6 different modes(and a "hidden" seventh mode, which we'll get to).
It's also the most streamlined and believable mode, robot aside, as everything fits in place just right and makes it aesthetically pleasing.
Generation One Sixshot - Laser Pistol
I won't describe the transformations regarding this guy as it's all very much about rotating bits and pieces into the correct direction to achieve the right look.
With that said, we'll move on to the Laser Pistol mode.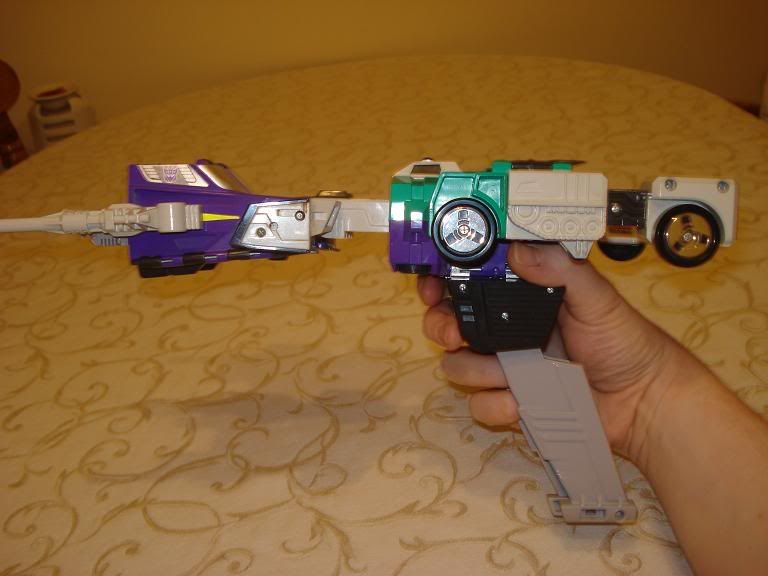 Colour wise, it's all the exact same stuff we've seen before: black, white, grey, turquoise, purple, metallic stickers and chrome detail throughout. This wont change much in any of the modes with the exception of 2.
Design wise, this weapon mode hails from the school of "it's a gun because we tell you it's a gun". It isn't the most sturdy.
As I said previously, there's always somewhere for Sixshots weapons to be stored or used, and in this case, they make up two of the six barrels that are at the end of the gun. Revealed also are two twin barrelled blasters from inside what will become his lower legs.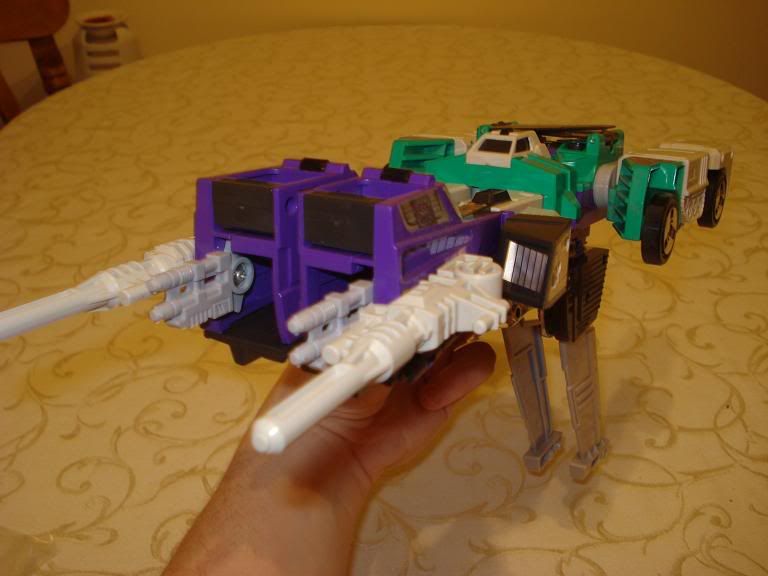 The large wings become the grip for the blaster here. There's nothing solid about it. It's two hinged parallel pieces of plastic pointing down. It's here that you can see that their concept was excellent, but that the exectuion was not perfect.
While it looks decent enough, it's still clear that it's the robot mode for the character, on it's back, with a few bits tucked away or deployed at a certain angle. When compared to the likes of Shockwave or Megatron, it doesnt measure up quite as well.
But when you take into consideration that there are still more modes concealed here, it really isn't all that bad.
Generation One Sixshot - Tank
For colouring here we've got the exact same going on. Nothing has changed except for maybe a bit more chrome being displayed towards the front of the vehicle perhaps giving it a more armoured feel, and on the rear, metallic gold on what will become windows for a later mode.
Again, it falls into the "it is what is because..." bracket.
All that being said though, it's still fairly good a configuration. With each mode, you see a little more thought and detail being displayed. For instance, the treads for the tank are now displayed along the side, albeit in the same colour as the rest of the plastic they're moulded from.
A cockpit is revealed towards the front-top of the vehicle mode, perhaps harking back to the days of Diaclone as a tribute. Or maybe it has something to do with the whole Headmaster plot(smaller robot companiones etc). I dont know. It's safe to assume that each mode for the toy is meant to be Cybertronian in some way.
His pistols stay mounted to what was the barrel end of his Laser Pistol mode but are now on top of the vehicle mode.
This and the pistol are probably the weaker of the six modes being that they have only the slightest resemblance to what they are meant to portray. However, While I am willing to let bygones be bygones for the gun mode, there is a slightly forced feel to particularly this mode which makes me wonder if it was an afterthought.
It's squashed and crammed, the wings don't feel like they have anywhere to go, and some bits and pieces aren't that well concealed, like the wheels at the front or the feet at the back.
Maybe that last point is down to my familiarity with the toy. But still, they could've tried a little harder with this mode, or scrapped it altogether in favour of something else.
Generation One Sixshot - Armoured Car
For me, this mode is very likeable. The front of the car is broad and chunky and the way the wings flip forward add to the sense of armour. For the first time and only time, this thing is on it's big chunky rolling wheels and it really has a sense of power, like a HumVee or the like.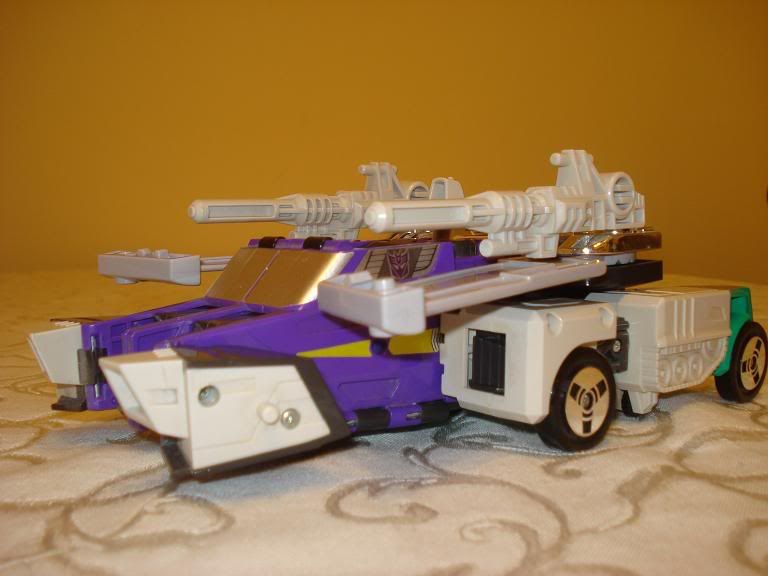 Here, Sixshot's weapons are removed from the previous spot and attached to the underside of the wings and while no other weapons are deployed, it feels like the two grey squares on either side of the front of the car look like they're supposed to be projectile weapons.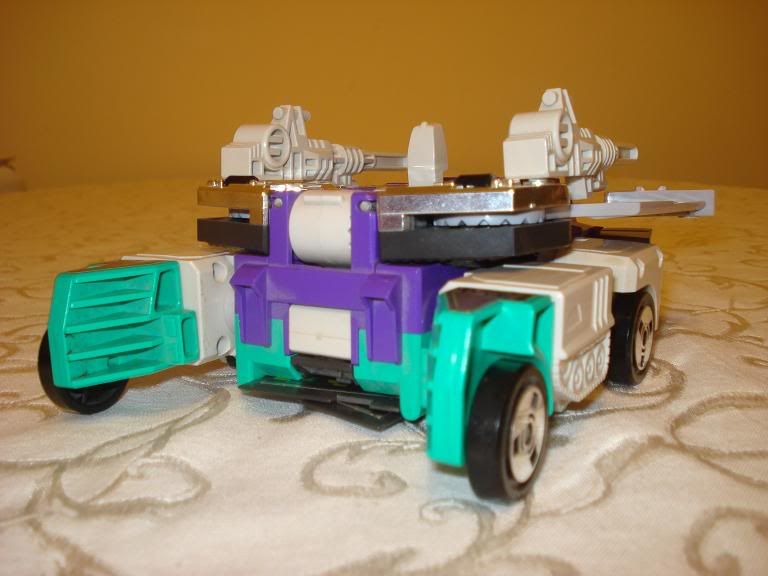 There's so much mystery surrounding this character that it really comes across in the toy. Whether that was intentional or not is anyones guess.
The only changes to colour here are the gold windows on the front of the cab. Everything else is pretty much the same.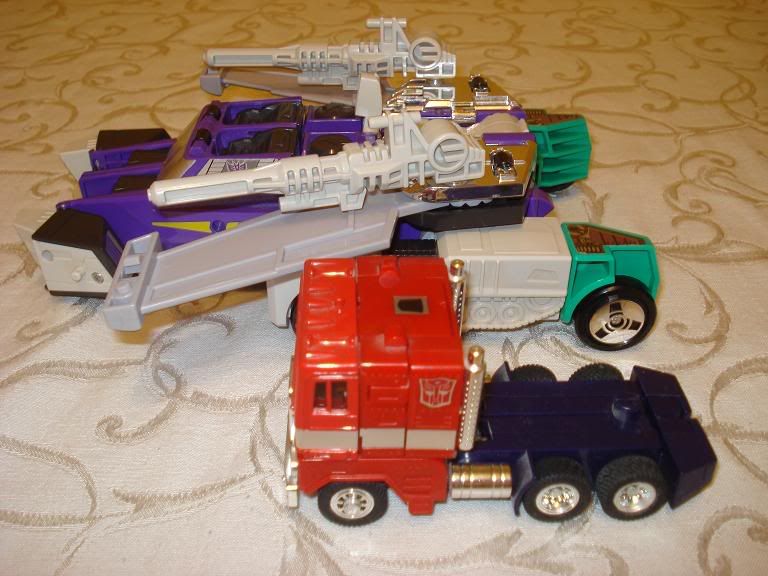 This mode is great. It's solid., big enough and when sat along side Optimus Prime as pictured, it gives you an inclination that this guy is one big battle platform.
Generation One Sixshot - Wolf/Winged Wolf
Takara's Headmaster show made Sixshot pretty much the star in a lot of ways. He featured in every episode(if memory serves correctly) and even had a few episodes dedicated to him, such as one where he is stranded on a planet with Daniel or up against Ultra Magnus in their final face off. In the latter, they made a big deal out of Sixshot having a hidden seventh mode.
Up to now, we've seen his Space Jet, Laser Pistol, Tank and Armoured Car modes. His fifth mode is a Wolf. We'll get to his the robot mode below. The images on the box and the instructions don't display any additional information about this extra mode so it seems that only by seeing the cartoon, and particularly, the above episode, would you know that he has this mystery configuration that makes him super dangerous.
Get ready as I reveal how it is achieved.
It's done by displaying the wing parts at a different angle while he is in normal Wolf mode.
As secrets go, it's not that stellar. Not like say, Generation One Onslaught's base mode for example.
Aesthetically though, it does look a bit cooler than just his Wolf mode. All pictures taken for this review are of that winged mode.
A second head is revealed here, and finally the colour scheme has the addition of bright red for the wolfs eyes. That aside, the colours haven't changed, and we're okay with that.
The design itself is fairly cool. It's non-vehicular so poseability comes into play for the first time really. The front legs move forward and back, the hind legs likewise. There's a certain amount of rotation that can be achieved with the wings meaning you can alter how far you want the wings in or out, up or down.
The head moves up and down, the jaw opens and closes(hiding or displaying the cockpit from the Tank mode) and that's really about it.
It's fairly satisfying. Especially when you consider, and I know I keep going back to this, that he was the first six changer to grace the Transformers universe. We'd had Gestalts and triple changers before in all various shapes and sizes, but nothing quite as "complex" as this.
Here is where I'll back track a little. I said before that each mode always has somewhere to store Sixshots blasters. This is the only configuration thats the exception to that rule.
Oh sure, you can display them in one of the holes on wings if you like, but that doesn't look right.
Generation One Sixshot - Robot
Essentially, no colours change from (Winged)Wolf to robot here. The red from the eyes is carried over and really, all we get additionally is all the stickers facing forward for the first time.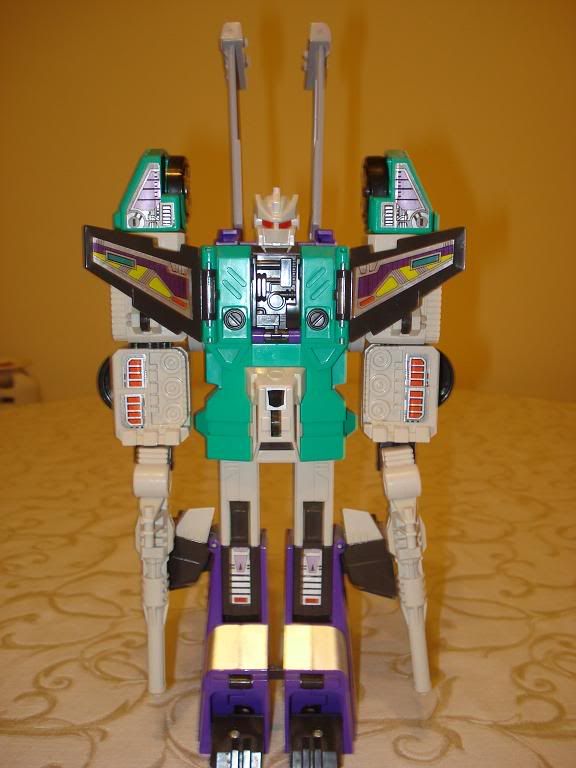 The fins on the Space Jet now make up breast plate by folding out and the wings flod up at the back, with the option of protruding out a little, or lying flush against his back.
I prefer the former.
Design wise, all of the major detailing comes to the foreground here like the tank treads and gold windows all mentioned previouly. When you sit back and take him in, you can see that the robot was the starting point from which all other modes were derived. All the stickers and details are pushed onto this mode, making for something very cool.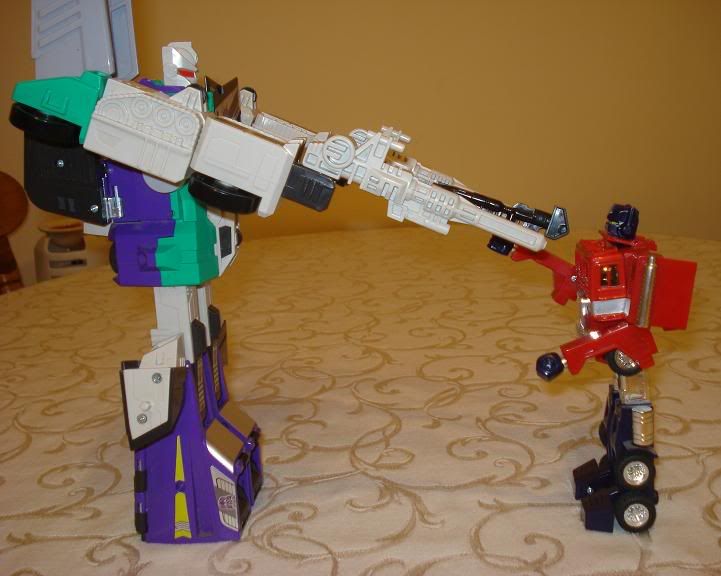 He's got the typical kind of poseability you'd except from a Generation One toy. The arms rotate forward and back; the head doesn't turn; the legs bend at the knee but not suitably for dramatic display.
I can't and wont detract points for this though. It's a toy of it's era and it stands up well to the test of time. Frustratingly though, the only way to get the arms pointing forwards, is to close the fins over onto his chest. Problem solved right? Not quite, as doing so then blocks off some of his face. A minor flaw really, as he really looks better with the fins out to either side.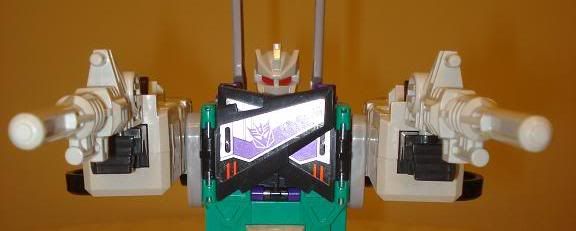 He's also immense in height. He towers over Optimus Prime from the same timeframe and even a more recent toy like 2007's Leader Class Brawl is smaller. That's good going for a 20 odd year old toy.
This and the jet modes are possibly the best of the whole lot. They're good and sturdy and they portray Sixshot as the weapon of mass destruction that he is.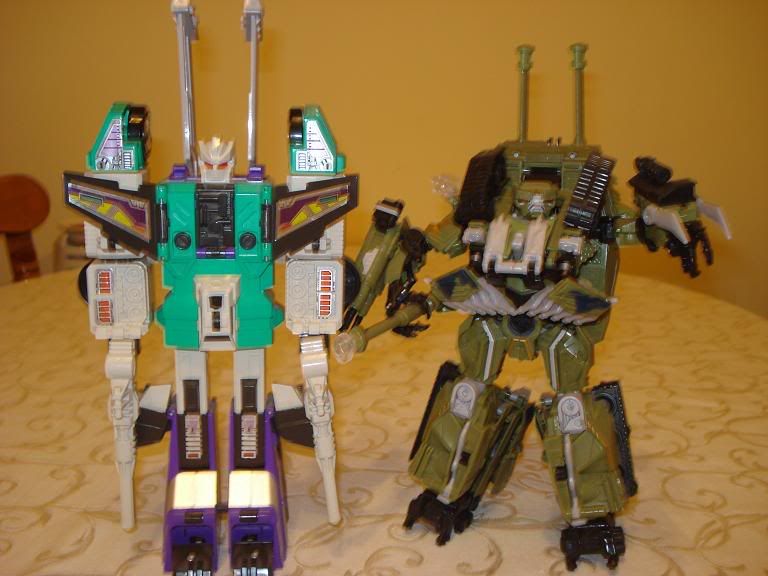 The red eyes burning through on a snow white head are a great contrast, as are the rest of his colours. They're bold, confident and they're a fitting scheme for most lethal Decepticon under Megatron/Galvatron.
Generation One Sixshot - Weapons
The package comes with two blaster rifles that slot into various ports along his body, depending on the mode he's in, and of course into his hands when in robot mode.
As mentioned before a couple of small twin barrelled blasters swivel out from the inside of his legs in both Tank and Laser Pistol configurations.
They're fairly big and well detailed, each with what appears to be laser sighting units on top.
Generation One Sixshot - Supplemental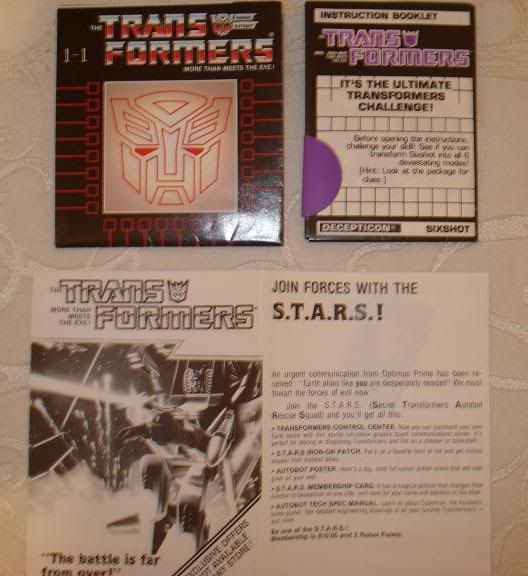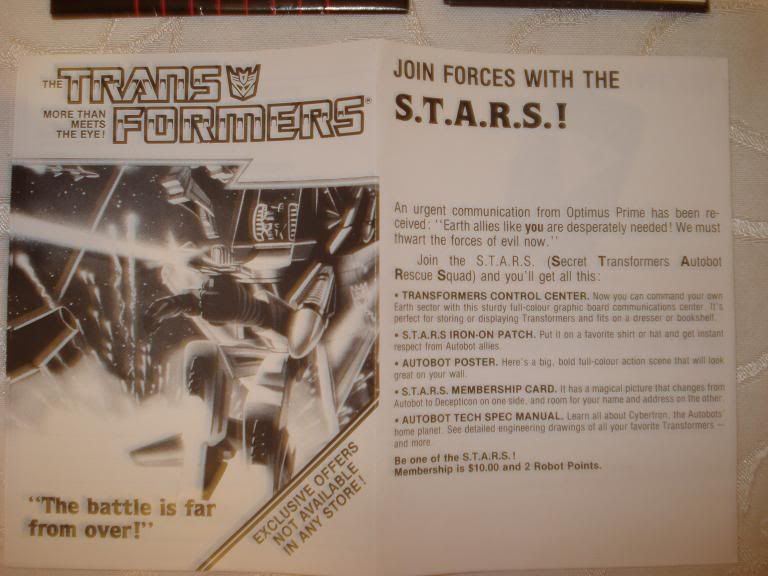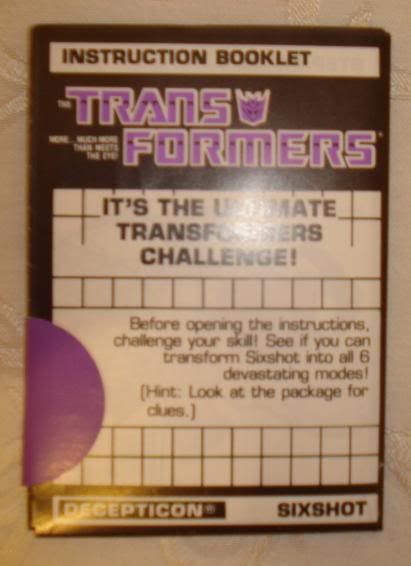 Generation One Sixshot - Final Thoughts
ICON reviews are about the characters AND the toys. In this case, Sixshot has only really had one toy that was about him and not a repaint or namesake. In this respect, it would be easy to assume that he's an ICON by default. However that's not the case.
You have to keep in mind that for all his faults, he is a bit of a feat in his own right. He's the first of his kind. A Transformer that has six distinctive modes that each represent something different, while also respresenting the core of the character in every configuration. It is an achievement on a modest scale.
And it's really only in the deconstruction of the robot mode to the others where things start to suffer from a lack of depth or too much kibble. It is here however that I'll reiterate my point of having a fantastic concept a little before they had the tools to perfect it.
They aimed high and achieved something impressive. Not perfect, but impressive.
If anyone is in need of an update for the Classics/Universe line, it's this guy. He's well loved, he wont be on the shelves long if they ever remake him and he deserves the kind of justice that can be truly done by todays standards of toy design.
Until that time comes, no Generation One collection should be without him. This toy captures the character perfectly.
Score - 4