Post by Potatoprime on Apr 30, 2009 9:54:34 GMT
This is a figure I've been waited for ever since i saw the episode "A fistfull of energon" This wont be a particularly picture heavy review As Jay has some excellent photos of the figure up allready in the sightings thread .
When i saw the pics of this guy i assumed like most people the it was a slight retool of the wave one Prowl. It's actually an all new mold. As u can see from this pic he stands a wee bit taller then the first Prowl fig.
He's pretty much identical in terms of poseability with the exection of the fact that he's been given an extra swivel joint at the hips. Also the "thrusters" on his shoulders are now poseable . The traffic light has been done away with for this release and in its place... The sidecar armor from the aforementioned episode. Again when I first saw pics i mistakenly assumed it would be a parts former. Not the case! the sidecar open up on little unfolding arms and wraps around prowl to create the armour. It can be a little tricky at first to find the "sweet spot" where the backpack clips into place but once it does it holds very securely. I love the way the figure looks in this mode and poseability is not hampered by the armor for the most part (except for the head which i will get to in a moment)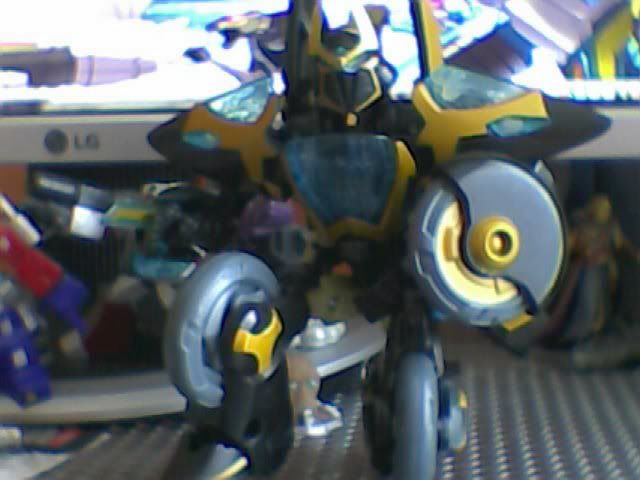 Its worth noting that due to the way the shin was remolded he is not capable of pulling that pose right out of the box ..At least he wasent on mine. The mod required has been posted over in the mod thread (shamless plug
).
Ok while i do love the figure it does have some niggling little flaws that stop it from being a top tier must have piece.
Its incredably back heavy. The remold to the legs have made the heels unstable. You can get him to stand but it takes a little finagleing. The helmeted head has no poseability whatsoever. Its attached to the backpack via a ball jointed post and it just rests on the head. A friction clip here would have been much better. His ninja stars have been disabled. I see absolutley no reason why this had to happen And finally it doesnt have the shield from the ep. Ok this is a minor flaw that I've since managed to correct (Again mod thread) but it did irritate me slightly considering how faithfull to the onscreen look all the other animated figs are.
So after all that is he worth the price of addmission? In my humble opinion I'd have to say yes , yes he is. Despite the minor inconvieniences he looks fantastic on a shelf. If your a prowl fan grab him even if you own the first one. If your a bit meh on the character might not be for you. I suspect this figure and its wave mate will prove hard to get due to the upcoming ROTF push. I picked up mine From everyones favourite plastic crack dealers Modelmania. So set sail for there if u need ur samurai robot fix
3.5/5
Edit: Tightening up the ball joints on the hips really improves stability