Post by Potatoprime on Jan 26, 2009 12:31:12 GMT
This is a figure i've been waiting for ever since his cartoon appearence in S.U.V. society of untimate villiany. Season 2 episode.
He comes packaged in his vehicle mode which is a tan SUV. looks a bit likea hummer
He has translucent purple windows on the windscreen only. The other windows are painted on and shock horror actually matchs the clear ones pretty well. It has a huge cannon on the top.
Also there is a big PURPLE con logo on the hood (i guess the gold woulda been invisable)
This mode has a gimmick where u can flip out the chest gattling and have it under the front bumper
. Nice little touch IMO. Swindle is nice and solid in his vehicle mode aprt from the hood which feels a little flimsy.
Transformation to Bot mode is relatively straight forward with no real surprises.
Robot mode is where this figure shines. I am continuously blown away with the amount of character loaded into the head sculpts of the animated figures
As u can see his slimy car salesman smile is perfectly captured
Also this head has an interesting use of light piping. when in front of a decent light scource the white pupils glow a different colour to the rest of his eyes
Swindle has aritculation in his neck, fingers ,elbows ,shoulders,knees and hips. arms can swivel at the shoulders. Unfortunatly he has no waist articulation due to the transformation.
Like the Car mode Swindles bot mode has an assault mode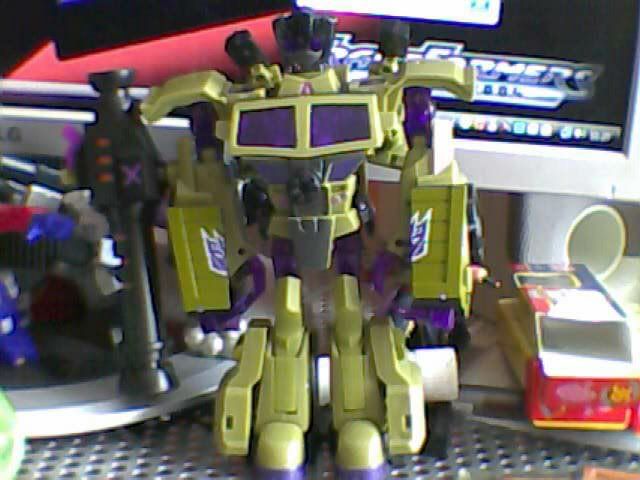 the weapons that flip out mimic his show arsenal almost perfectly and with the translucent parts it looks like his Vok energy shield is online in the correct lighting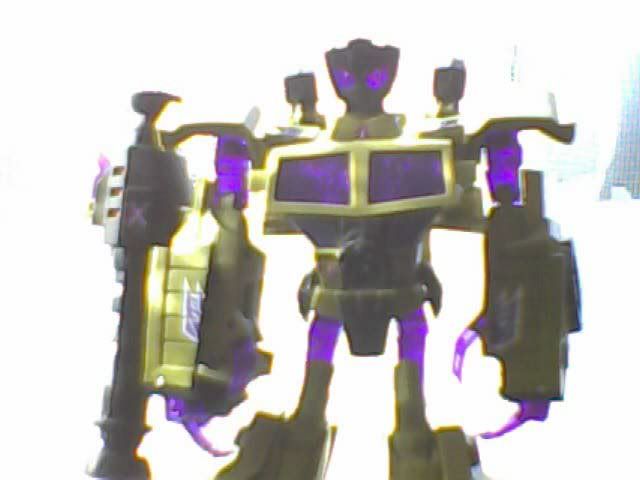 I was pleasently surprised to see they manage to squeeze those features into a Dx class figure.
Size wise Swindle is one of the shorter Decepticons being only a head taller the Soundwave
Swindles arm cannon also has a little gimmick
without the missile inserted the detailing along the barrel is the same translucent purple as on his body
Load the missile however and the detailing colour changes to an orange colour as if the gun had "powered up "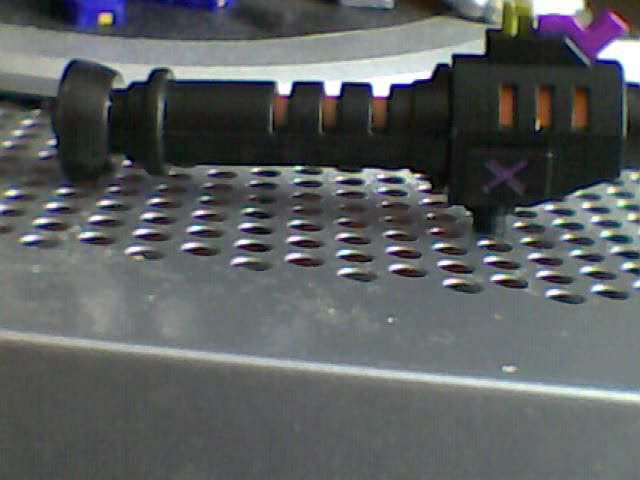 A nice little touch that was put if for the sake of it.
Sadly its not all good news with this figure. There are a couple of small flaws to him.
Hes very unstable on his feet . the wheel heels do very little to keep him upright. extending the little panels on the back would have fixed this without detracting from the vehicle mode. also the chest plate is extremely loose and will fall forward without much provocation. I,m currently working on a fix for that.
So is Swindle worth picking up. Yes definatly ! I picked him up from Dublins favourite Plastic crack dealer Modelmania. And he was worth the extra few quid to get him early. Despite the minor flaws he has become one of my favourite Animated Dx,s