Post by Rodimus Prime on Jan 18, 2009 22:08:17 GMT
TFA - Ultra Magnus Review
Ultra Magnus is the Commander of the Autobot Elite Gaurd. In the cartoon, he is over the likes of Jazz and Sentinel Prime, sounds like Robert Stack and doesn't take any garbage from anyone.
You know you're tough when you scare Grimlock away.
Vehicle Mode:
In vehicle mode, Magnus is what appears to be a large Cybertronian combat vehicle. He's long and armoured, with eight wheels(four on either side), a large weapon frame on top and in the rear sits a block that will become his hammer.
The colour composition for this mode is grey for the front cab and some joint spots, silver for the "grill", black for the wheels and windows, blue for the remainder of the body, with light blue highlights and yellow for the headlights.
Throughout this vehicle mode are areas of translucent blue plastic which will, eventually, light up when triggered.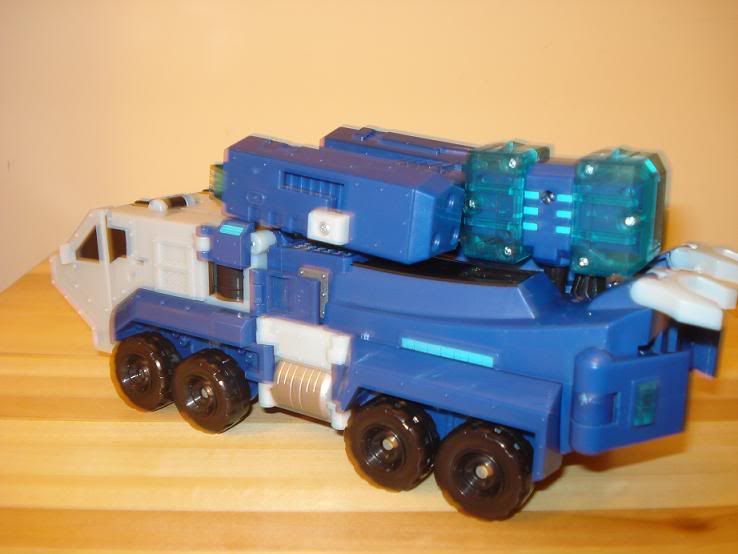 The vehicle mode is miles away from his old car transport original or even the RID version. It's far more aggressive looking, and it's a taster of whats to come for the robot in general.
It's a good solid mode. Everything is well hidden until you flip it over, and then you see parts of the robot. But this is true of pretty much any Transformer toy ever.
With a few flicks of some bits and pieces on the front, and a few tab pushes on the weapon frame on the back, you're into the vehicles battle mode.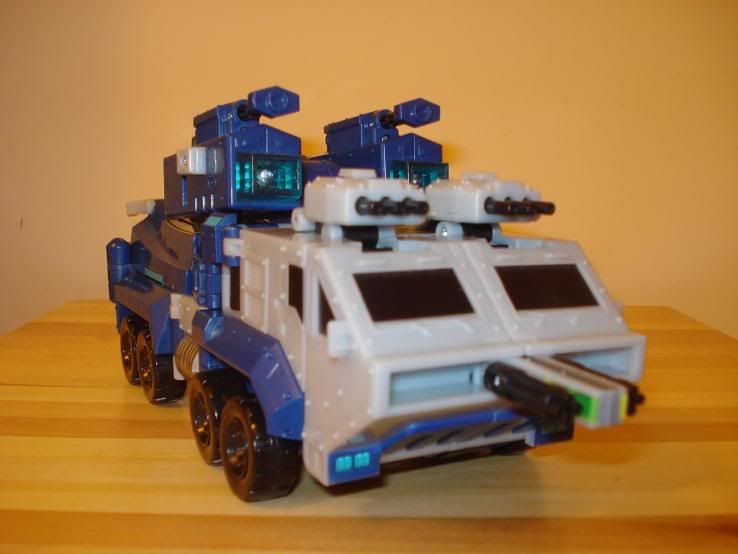 There is virtually no change to the colour scheme in this mode.
Magnus is now ready to run down pretty much anyone in this mode. Here he sports two gattling guns on the front of the cab, two armatures each with three gun barrels mounted to the top of the cab, and four cannons on the top of the vehicle mode.
I'd imagine that there's now very little he can't deal with.
Robot Mode:
Magnus' robot mode is very impressive.
He's tall, statuesque and has the physique of a superhero and comes in a little taller than the Leader Class Megatron from the same line.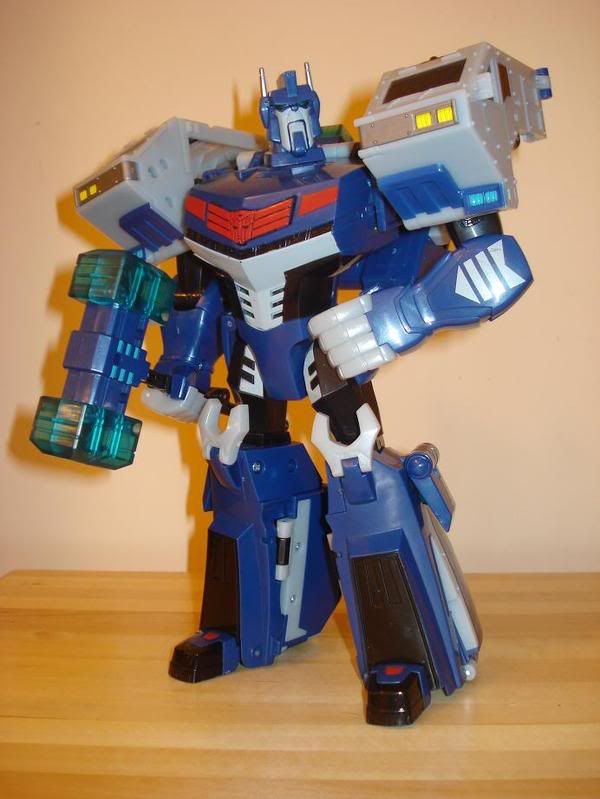 The sculpt is fantastic. He's bulky yet streamlined. And his head is awesome. It looks jaded and angry and there's a slight curl to his upper lip.
The colour scheme is much of a muchness. Nothing is really taken away and the only thing added is the red Autobot Elite Gaurd logo, worn loud and proud right across is chest.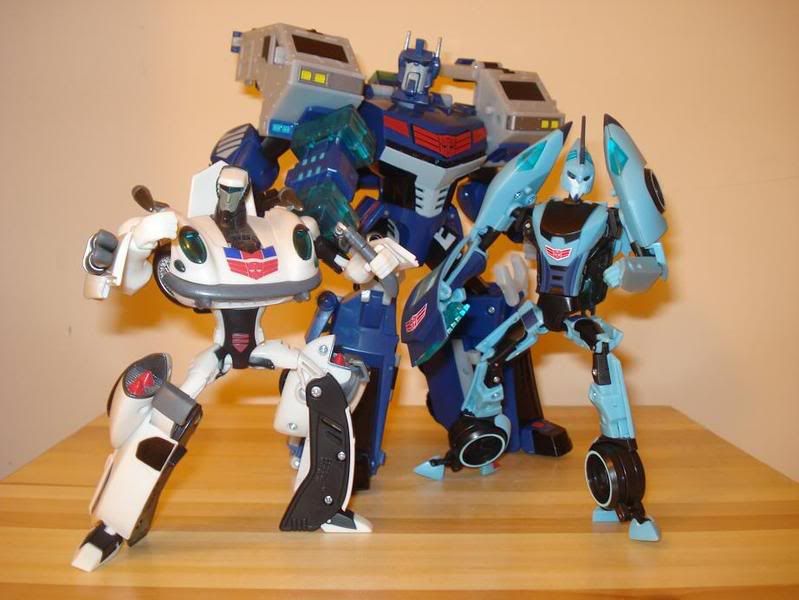 In this mode, poseability is decent enough. Head, shoulders, elbows, fingers, hips and knee's are all moveable so you can achieve a fair number of poses. Strangely, the waist is not on a swivel joint. To this day, it still bemuses me when this is done.
But I suppose you could attribute the lack of twistable waist to the electronics inside the guy(we'll get to that in a little bit).
I said a moment ago that his fingers are poseable. This is true, but it's also very basic and not on the level of say, Masterpiece Optimus Prime, where you can bend each finger seperately. They are hinged but molded together. On each hand they open out, allowing Magnus' melee hammer weapon to be pushed into a slot in his palms. The fingers can then be closed around it.
Like his vehicle mode, Magnus' robot mode has a battle configuration.
To do this, you open out the front grills on his shoulders, lift the cab canopys, whip out the armatures and swing the weapons frame, which sits on his back, over his shoulders.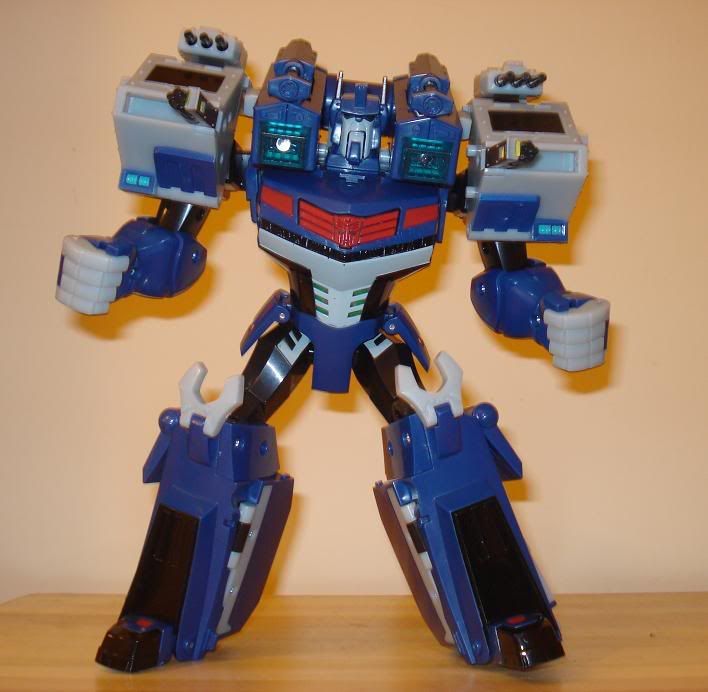 This is where Magnus really shines. All of these weapons sit across his shoulder making him one tough nut to crack. He could've used this arsenal back in his
Target:2006
days.
He looks great and loses none of the poseability that he had before, with the exception of being able to turn his head.
Extra Features:
I mentioned before that Magnus had some electronic features. One of the great features of the toy, which really should be included with
all
Transformers toys, is that when you change him from vehicle to robot mode(and vice versa), he makes
that
sound.
It's always good to have this as a little extra something.
Also, when you push in the Autobot logo on his chest, his eyes and weapons light up, his mouth opens and he says a few phrases, such as: "Don't be a hero Optimus. It's not in your programming!".
What's more, the lines spoken are either sampled directly form the show or the voice actor actually recorded them specifically for the toy.
So, you essentially have an Ultra Magnus toy that sounds like Robert Stack. Thats worth the price alone, in my estimation.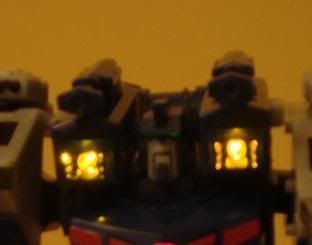 Wonderfully, turning Magnus' head from left to right doesn't hinder either the voice chip or the ability for the mouth to move.
We've come a long way in toy development.
Weapons:
Aside from the inbuilt arsenal of justice that he houses all over his body, he comes with a hammer that "transforms". By this I mean that the handle folds up on itself so that you can store it in the back of the vehicle mode.
Between his legs of all places.
Overall:
I was never keen on the Animated images that were leaked before show and toyline were released.
But I've been wrong before.
Putting it plainly, Ultra Magnus is a gem in the crown of Transformers Animated. He's big, imposing, tough, authoritive, well sculpted and has features out the tailpipe. He's also the first true Ultra Magnus(produced by Hasbro) that we've seen since RID that isn't a repaint.
On import in Dublin, he's a little more expensive, but worth every penny if you can't find him in your average retail shop.
I was going to give him a perfect score, but being the cynic that I am, he does have one or two niggles.
The lack of a twistable waist is a hinderance to his level of poseability. The weapon frame on his back can make him back heavy and the lack of ball joint mounted feet means that he's not as dynamic as Leader Class Megatron from TFA(who is to all intent and purposes, basically a giant
Revoltech
toy).
Also, his transformation is a little finicky, particularly around the shoulders. Everything has to be done just so. It can be a pain and cause a little concern when you use too much force.
These drawbacks are minor though. And to be honest, it'll be rare if you can get your hands on a cooler toy from the TFA toyline.
Ger, this one's for you: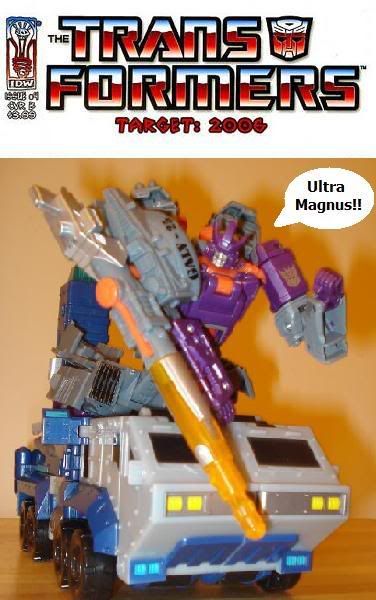 Score:
4/5