Post by Rodimus Prime on Jan 11, 2009 14:14:59 GMT
It's a wonderful and wet Sunday afternoon so there's no better day to get stuck into our first editorial.
-
Information for TransTech is limited. The following is the result of much research
-
Nemesis PrimeTransformers - TransTech
Ok, so officially, the concept has been redesigned and is being used for the Collectors Club comic etc, but the TransTech universe is pretty interesting.
Originally visualised as the next series on from Beast Machines, it is presumed that the story would continue on the now techno-organic world of Cybertron.
Here, the Transformers themselves have been radically redesigned, featuring predominantly Cybertronian chassis, but retaining some elements of their Maximal or Predacon beast attributes.
Not much else is known about the idea behind the show. The characters were redesigned by
Draxhall Jump
(who contributed designs to Beast Machines), and could be seen as a hybrid of the Beast Machines and 2007 live action designs. Some familiar characters(Cheetor, Nightscream, Silverbolt) and unexpected ones(Depth Charge looking like he copied the Nemesis starscruiser for his alt mode) would return for the show, while old faces with new bodies would be added(Optimus, Megatron, Shockwave) and the only confirmed new character was going to be the mysterious Immorticon.
It's interesting to look at these designs and wonder where they were going to go with everything. I mean, Depth Charge was presumed dead in his final battle during the end of Beast Wars. Starscream was also due to return, and I would have loved to see how that came about, considering his Spark was sent spiralling through space after he had stopped with his possession of Waspinator.
Anyway, Hasbro, for whatever reason, cancelled the idea before it really got off the ground, with only 3 prototype toys being produced - Cheetor, Starscream and Optimus Prime. But with the show cancelled, the market needed to have it's gap plugged and so, Car Robots was brought over wholesale from Japan, rebranded and redubbed as Robots in Disguise and this gave Hasbro and Takara time to work on their next big project, Armada.
Whats interesting about this is that you can kind of see some design elements from the TransTech line being lifted and rejigged to fit the Armada profile, most notably, Megatron AND the concept of Mini-Cons.
And even still, it's clear for everybody to see where Animated Blurr got his start...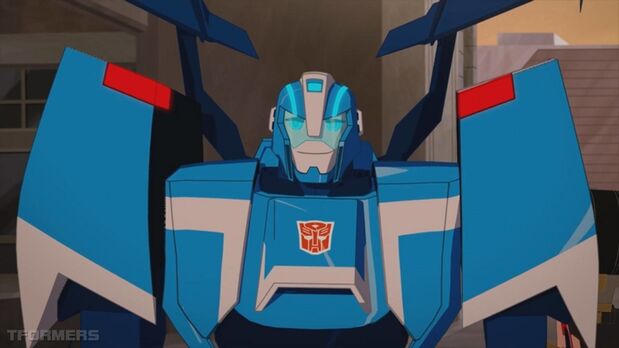 TT Cheetor
I have read the first issue of the TransTech comic, which main city on Cybertron(not Iacon, another place) is a processing area for new arrivals to the planet. These arrivals often come from other dimensions and include the likes of G1 Cosmos among their ranks.
Once there, new arrivals are imprisoned and questioned in preparation for their integration into life on Cybertron, however, all is not what it seems and Vector Prime(looking suspiciously like the BotCon Alpha Trion exclusive) sets about a revolution.
That was the end of the first issue. I believe it will continue to run for several more issues. It's unknown as to whether this was the original concept for the TV series also.
I've been fascinated by these designs for a few years, and have searched and searched for pictures of the final prototype to complete the trinity: Optimus Prime.
And still, I haven't seen it.
Anyway, thanks for reading and check out our
full gallery
of TransTech designs, featuring Black Arachnia, Silverbolt and more.
Cheers
Hot Rod