Post by Potatoprime on Aug 25, 2009 11:38:38 GMT
Released as part of Takara-Tomy's Music Label line (along with ipod dock Optimus Prime)The music label decepticons are Soundwave , Rumble and Frenzy.
Soundwave.
Soundwave transforms from robot to his traditional cassette deck mode. The twist this time ? The deck is actually a functioning MP3 player
In the box you get all of the following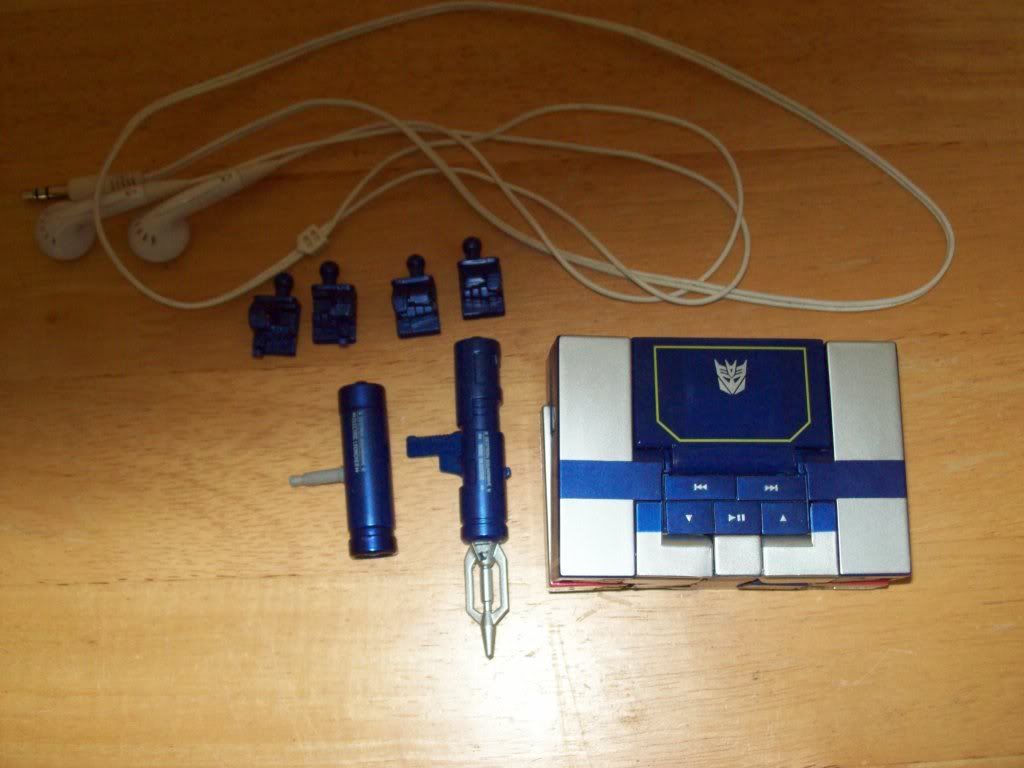 Soundwave
2 pairs of extra hands
A set of headfones
shoulder launcher
Concussion blaster.
He comes packed in tape deck mode so I will start there.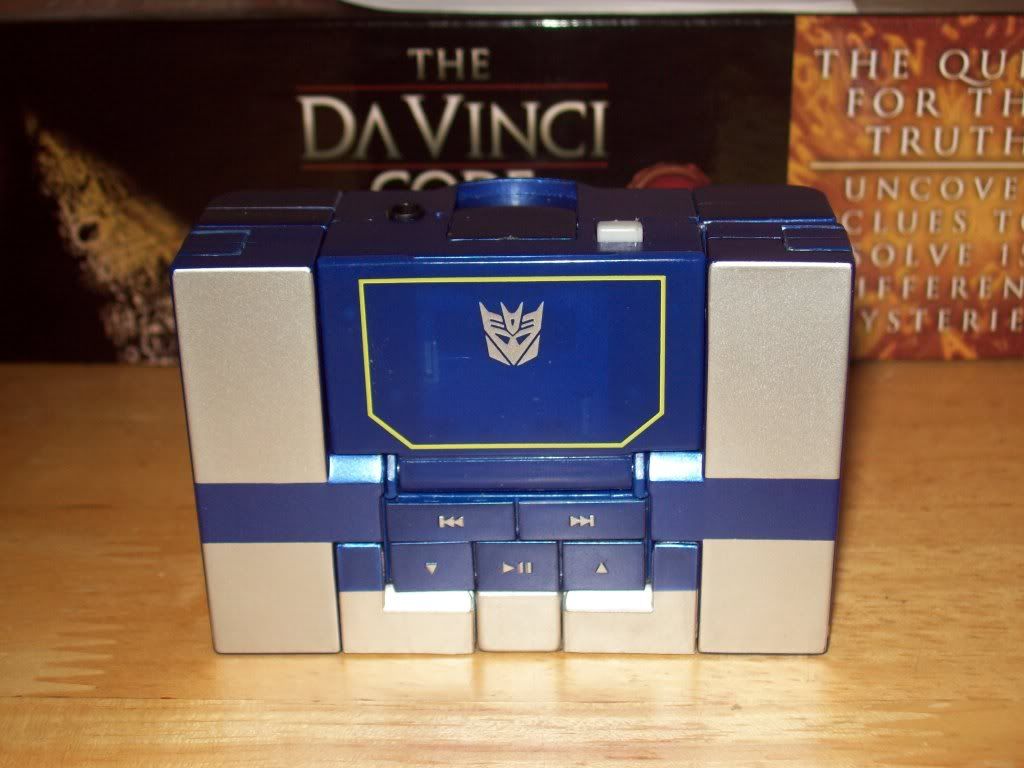 Its a big blue and silver block with yellow around the chest panel and a silver con logo. The controls for the MP3 player are located under the chest door and are the waist buttons in bot mode.
The mp3 feature is quite frankly weak. music is loaded on via mini sd card which slots into the chest panel.The player will only accept cards up to 2 gigs. It has the most basic of funtions. Play ,pause ,track forward and track back.
Transformation is pretty much identical to his g1 self. A new step was added to bring the shoulders forward in bot mode.
In bot mode he looks very close to g1 soundwaves onscreen appearence.
New colours added in bot mode are light grey on the arm and leg joints and red on the cuffs and eyes.
In a nice touch the release mechanism for the sd slot is the little button on the shoulder.
The head sculpt is fantastic
The shoulder rocket plugs into the headfone socket on the right shoulder.
the figure boasts phenominal articulation. Ball jointed head universal shoulders ,elbow swivel and bend ,wrist bend , Universal hips,thigh swivel and knee bend. he can pull off one of soundwaves signiture poses.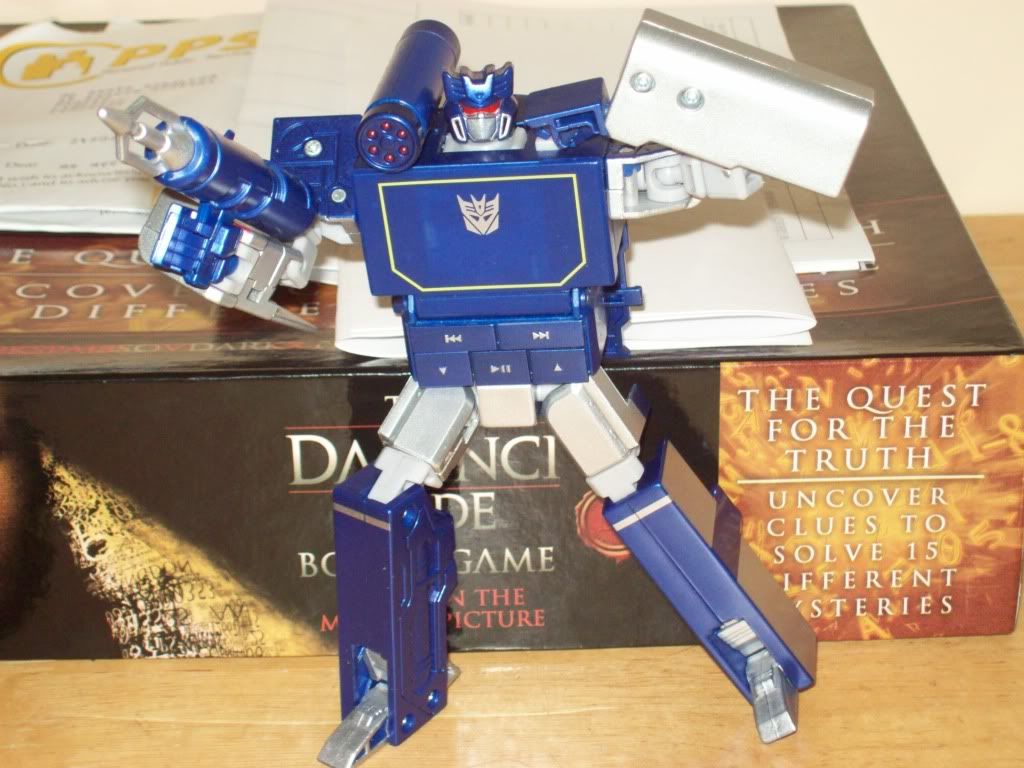 As stated before the figure comes with 2 sets of extra hands. Out of the box the figure has close fist hands attached. The other sets are ,gun golding hand with crooked trigger finger. and bent finger hands for the finger on relase button poses.
Rumble and Frenzy:
Where Soundwave is an mp3 player Rumble and Frenzy are functioning Headfones.
In fones mode they are plain white with silver con logos in the center and on the cord retraction button.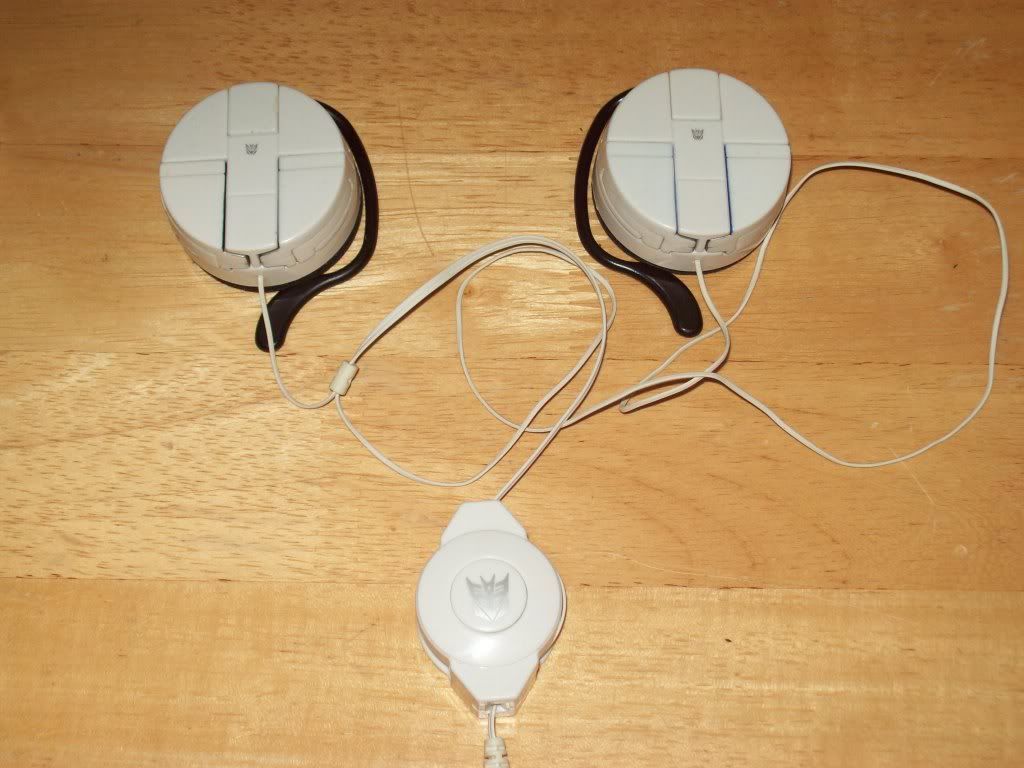 Transformation is a pretty simple affair and once transformed new colours are black and red on Frenzy and blue and purple on Rumble
A nice little head sculpt on the figures.
Articulation is practically nil on these two. They suffer greatly for being a pair of headfones.
The cord is non removable and the two figures are effectively tethered together.
In fairness they are not worth getting alone but if you can get a package deal with soundwave then go for it as together they make a pretty cool display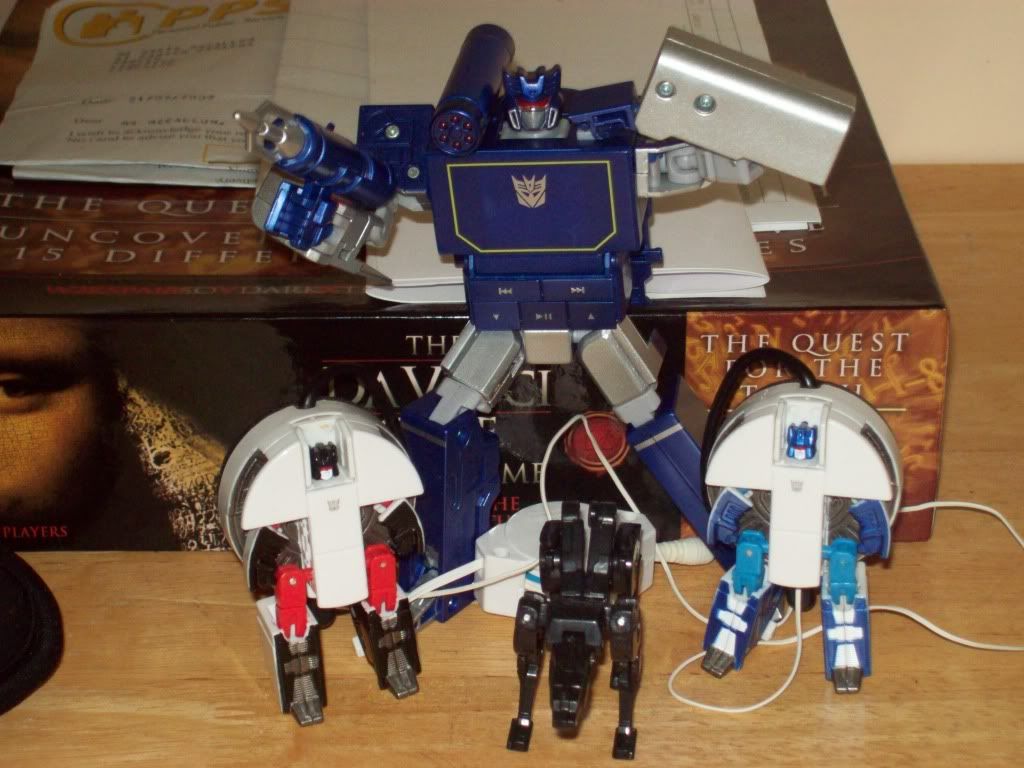 I picked these guys up from Jay and got a fairly sweet deal on the set.
Worth getting if you can get em cheap enough. Just dont buy them for their music playing ability as its pretty weak
Soundwave 4/5
Rumble/Frenzy 2.5/5