Post by Potatoprime on Sept 4, 2009 12:59:16 GMT
At first I didnt know who battle Rollar was. I assumed it was a character created by the manufacturers for their little transformable Roller figure. It turns out its an upgraded form of Barrel Rollar. the silver repaint of recoil that came with the Ehobby repaint of Kup.
So it comes Packaged in a very nice sturdy book style box
Inside the box you get
3 clear blue pairs of hands
the red clear plastic components (windows for the alt mode)
2 clear blue plastic swords.
2 guns.
little comic explaining battle Rollars origins.
Battle rollar himself.
So I'll start with alt mode. He transforms into Roller basically. I beleive he was intended to go with MP-4.
He is primarily blue with some black ,clear red on the front seats and yellow for the head lights.Silvery grey is used for the struts on the wheels.
This alt mode is capable of three configurations, His first id for the masterpiece line
Next up is the classics configuration. This is achieved by adding the small clear plastic windows
As you can see there are numerous hardpoints for the various weapons the figure comes with.
Finnally we have a movie style Roller.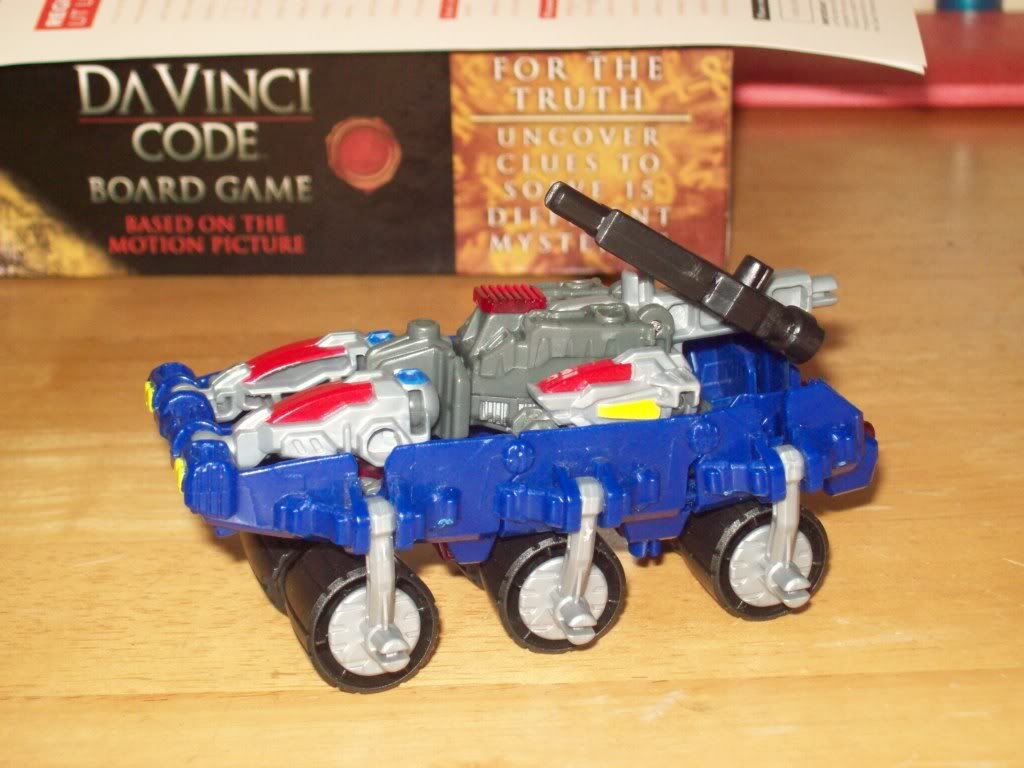 .
As well as these three alt mode configurations. B Rollar can also interact with Three different primes.
With masterpiece prime He can become a Rocket pack.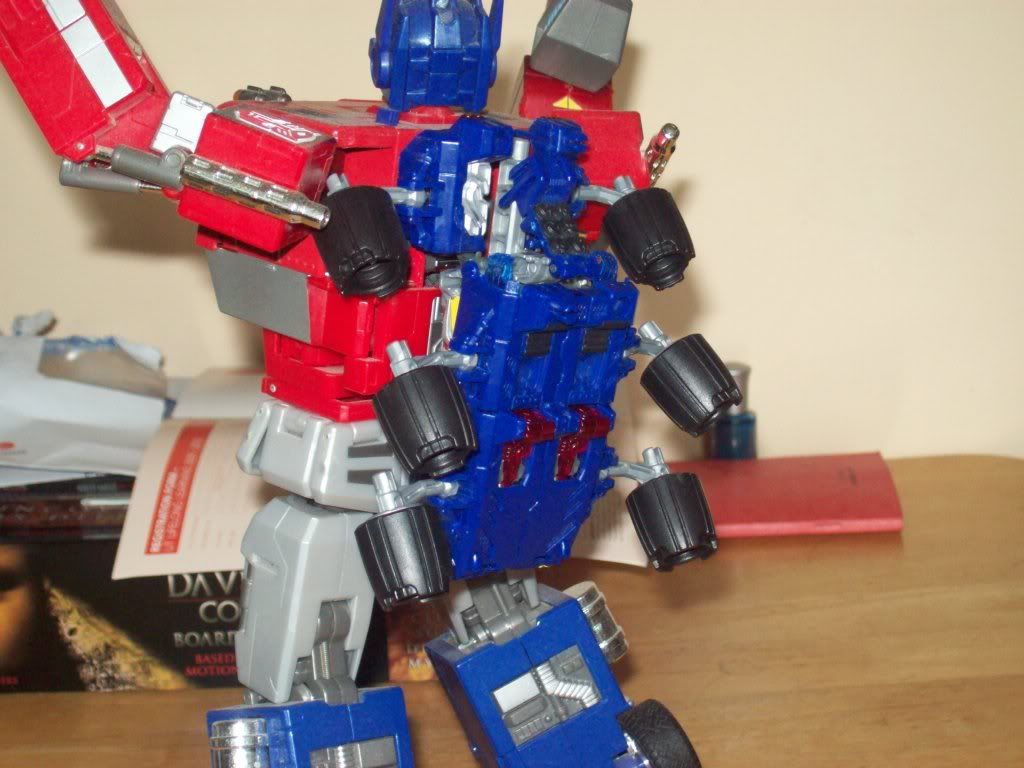 Simple but effective IMO.
He can also combine with primes gun to become a bigger gun.
Due to BR,s lightweight design Prime can heft this mighty shooter without any trouble.
BR also becomes a rocket pack for Classics prime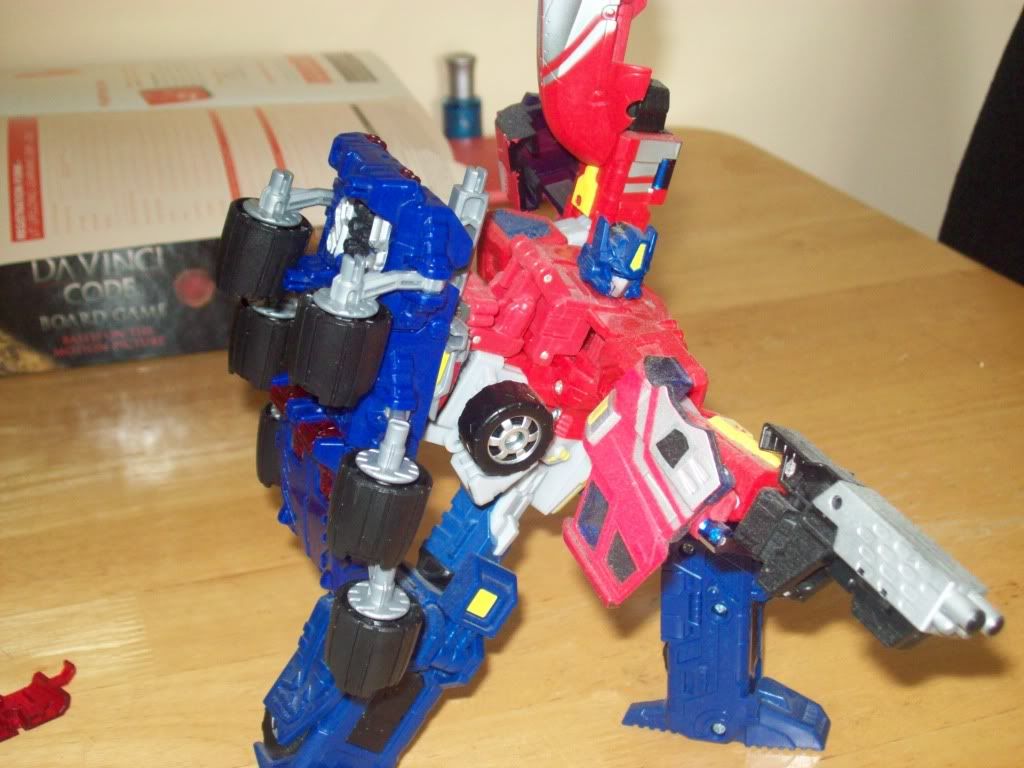 As well as a sort of battle pack.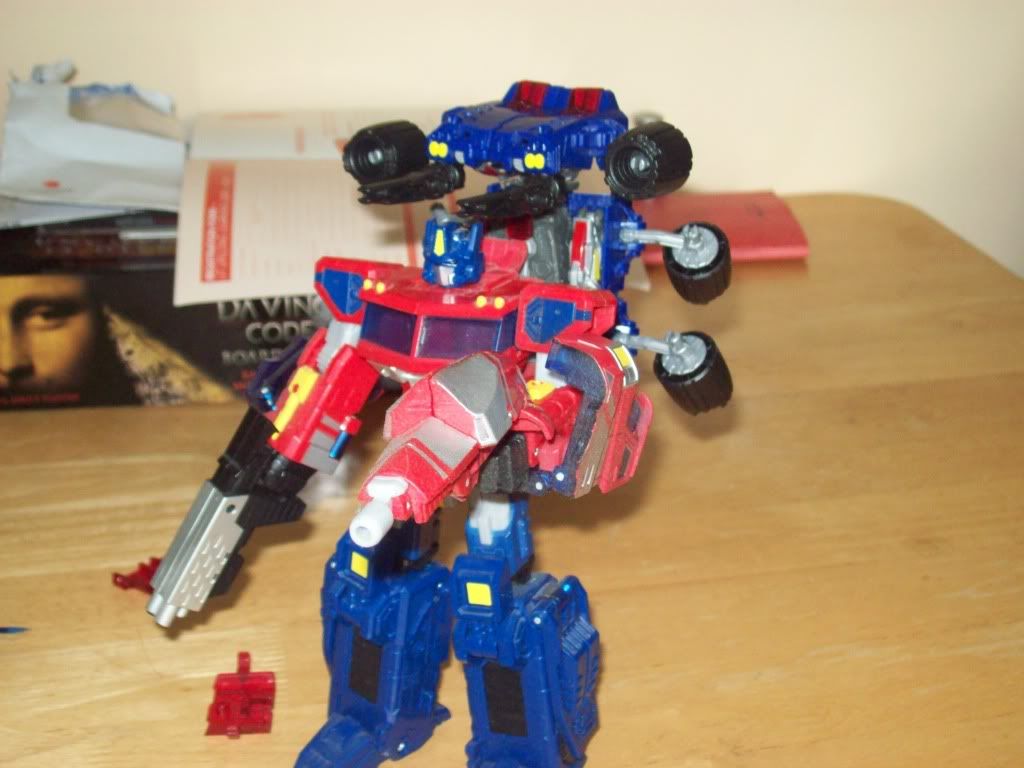 Not quite as impressive as with the masterpiece interactions imo.
He can also become a rocket pack for movie 07 prime (as Idont have this figure i am unable to show it but its not all that different from the other two).
Transformation is a fairly simple but not overly so.
In robot mode the colours basically remain the same but the silvery grey is much more pronounced. Also clear blue is added in the hands.
The figure feels a little fragile around the shoulders so caution should be used while transforming.
As you can see hardpoint are located on the hips for weapons storage.
The weapons themselves are really really cool. the two sowrds can be weilding independently or combined to form a double blade similar to optimus primals.
they can also be combined with the guns in a couple of ways.
This is my personal favourite.
.
The figure is absolutely loaded with articulation and has pretty much ball jointed everything bar waist whisch is a simple swivel.
the red window pieces also clip together to form a sort of riot shield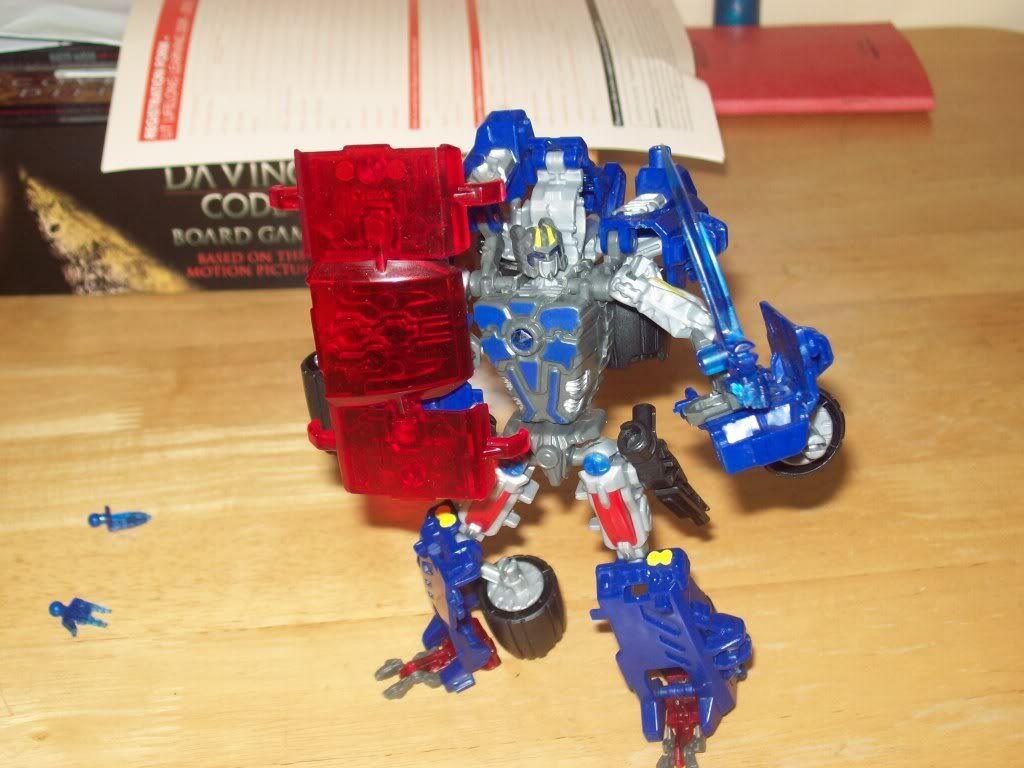 I use the word clip very loosely as they barely hold together and the slightest tap will cause them to seperate.
the figure comes with three sets of hands. Holed fists for the weapons, Martial arts style posed hands and generic open hands. each is molded in clear blue plastic and has a little letter on the back. these all spell ROLLAR when put together.
as the hands are on ball joints it should be a simple matter of popping them on and off to change them. However, As I quickly discovered while taking pictures for this review, Such is not the case. If you remove the hands they will stress the wrist sockets quite badly. But if you do change them uo can pull off some fun little poses.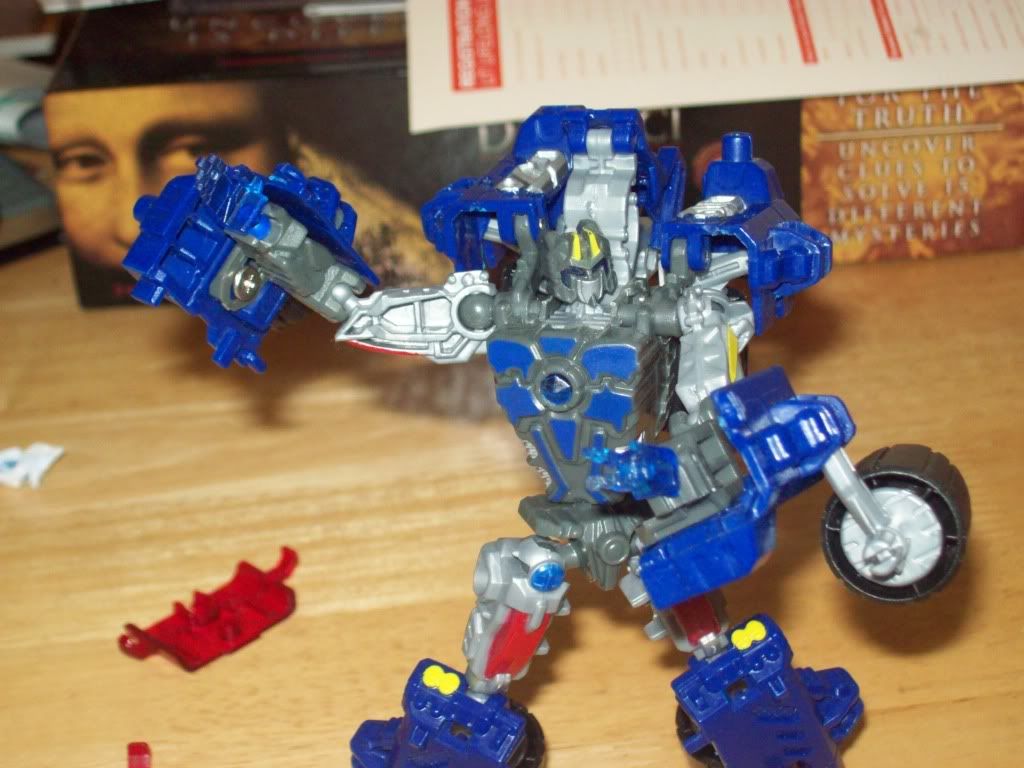 So is it any good ? Well yes IF you have some of the primes it interacts with. If not his price tag might be a little steep. It loses some marks for the issues with the hands and the shield was a nice idea poorly executed. He also feels quite fragile in places. Particularly around the shoulder joints. Personally I like him but he may not be for everybody.
3/5