Post by Potatoprime on Mar 4, 2010 13:26:42 GMT
Direct from Taiwan we have Ha Mudflap. As soon as this guy was announced i knew i had to have him So managed to snag him for about Irish retail price offa Ebay.
So there are three parts to this set just like Skids And I'll go through each one in turn.
First up is the agent Simmons figure. In my opinion the best human figure we have gotten so far. It's a fair representation of John Turturro
Articulation is the same as every other HA human figure.
On to Chromia. While there was some ambiguity about which sister came with Skids here there is no doubt. It's Arcee painted blue simple as.
Its a fairly complex figure for such a tiny thing, rivaling some deluxes
What paint apps are there are clean and well done.
The bike mode is also pretty nice with a large white Autobot symbol tampographed onto each side (so much for "diguise" eh).
The detailing on it is really nice but I think a metalic wash would have made them pop a bit more.
Like the main figure there are slots and pegs all over Chromia to hold her in bike mode very solidly.
The human figure can ride the bike fairly well
And now the main event Mudlfap himself
His alt mode is a chevy trax and is a really nice representation.
The reddy brown is much darker then the deluxe figure and a much closer match to the onscreen colours. In a crazy display of accuracy he has a tiny little trax logo on his rear(and when transforming skids for this review i realised he has the tiny beat logo on his rear. Never noticed it before now). This alt mode is rock solid with tabs on almost every panel to hold it together securely.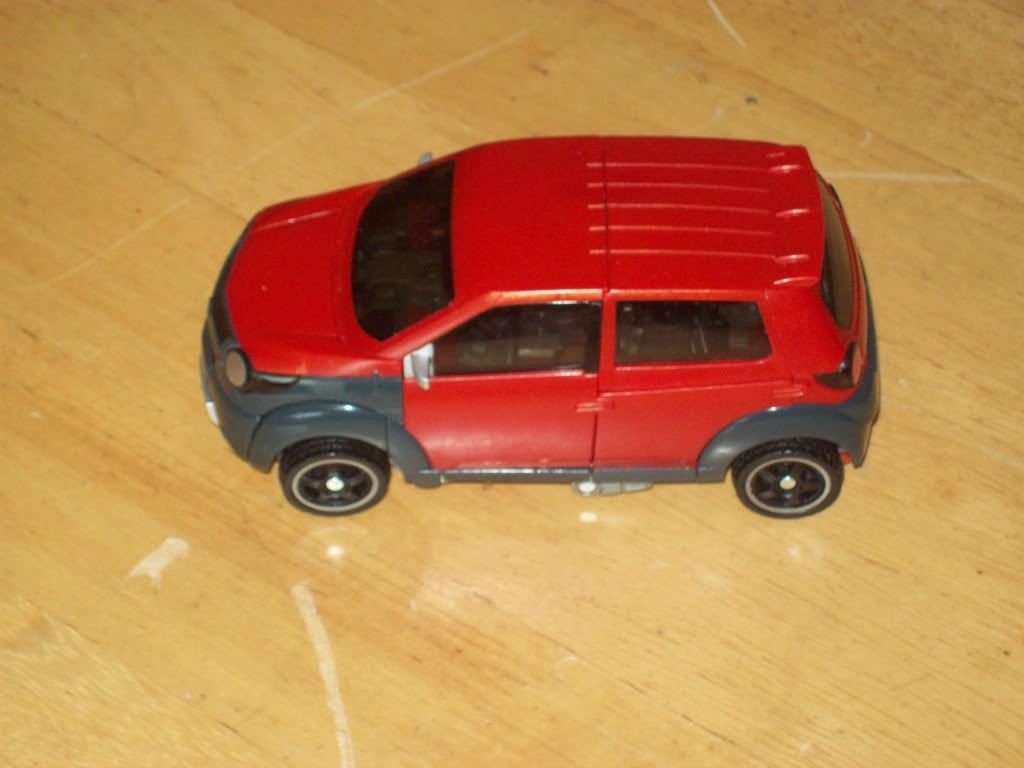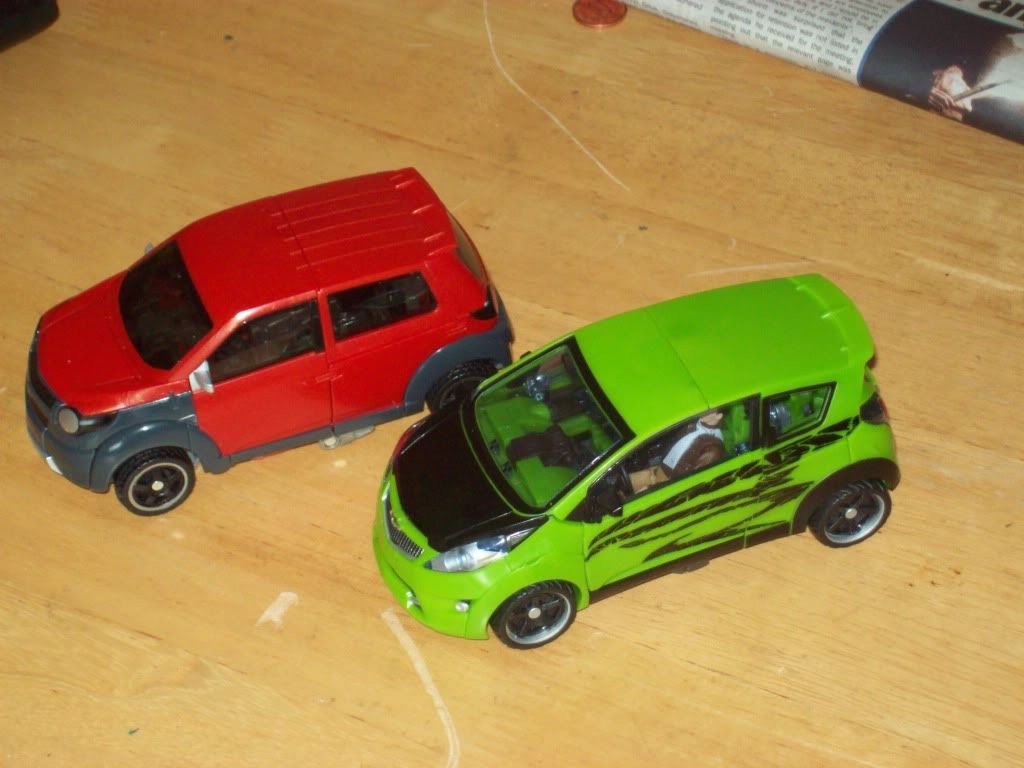 Transformation to robot mode is almost identicle to Skids with a couple differences in the way the wheels fold in behind the chest . Something to note, the instruction fail to mention a step for the chest. The grey panels under the headlights actually slide down a couple centimeters and make locking everything together a much easier affair. Its possible to complete transformation without doing it but it makes it a bit of a chore to get the waist locked.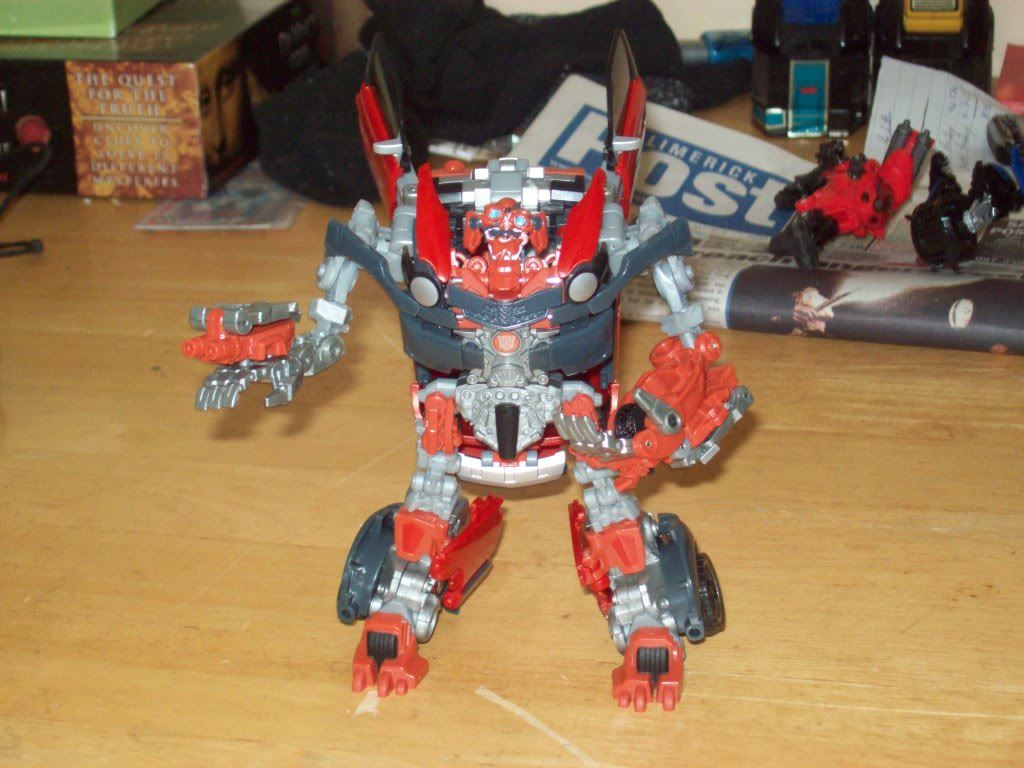 So in bot mode Mudflap has all the rich detailing Skids has
Articulation wise he has Neck ,full shoulder movement, elbows, fingers on the larger arm,waist ,full hips ,double knees and the ankles pivot for wide legged poses. The paint apps in this mode are pretty much perfect.
As with all HA figures Mudflap has various features in his bot mode. Instead of a giant missile like Skids, Mudflap has a grappling hook in his giant arm.
A simple pull out affair. The cord is retracted by spinning a little winch on the arm. A nice touch here is that the tip of the hook actually pegs into place on the arm when not in use to prevent it from flapping about.
The simmons figure can man either arm or the chain cannon on Mudlap's back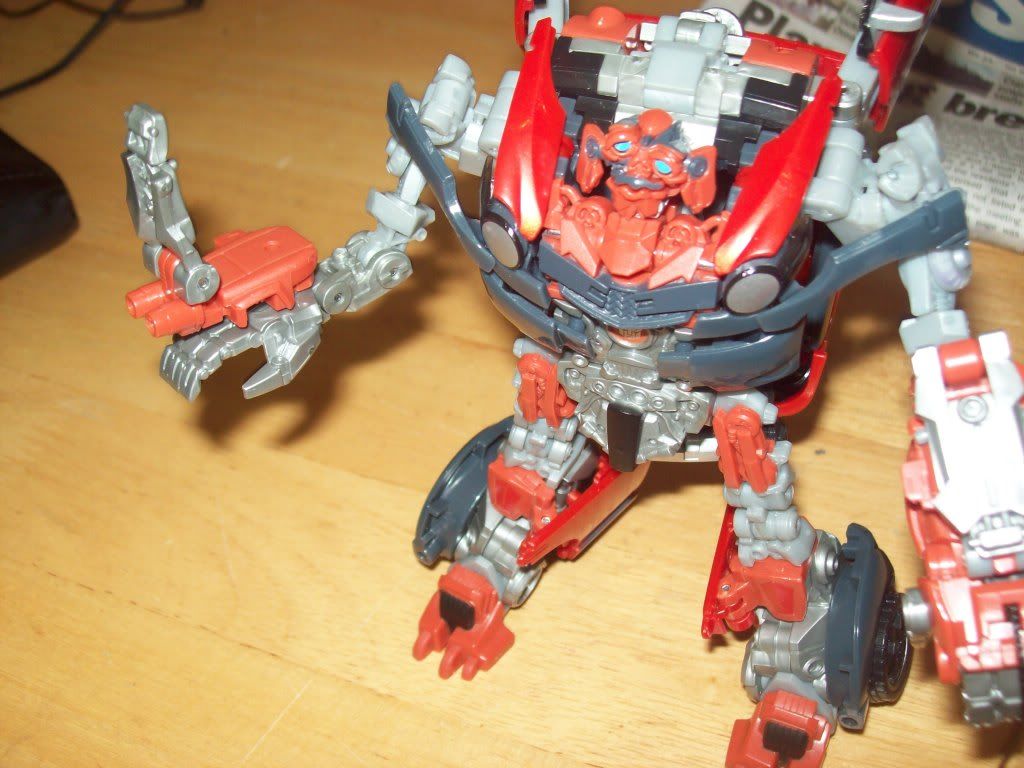 The one knock I have against the figure is found here. The seat on the right arm. For it to be deployed the gun has to face the wrong way.
On to the most important part. How does he look next to his brother
.
Pretty darn good I'd say.
So is Mudflap worth the price of admission. Short answer, YES.
Long answer if you liked skids your gonna like Mudflap. And to be fair you cant have one without the other. half a mark deducted for the weird gun setup on the right arm
But in my opinion Mudflap is the better toy of the toy brother simply because the human figure and bike sister are executed much better then Skids. The robots themselves are a dead heat
4.5/5