Post by Potatoprime on Nov 24, 2010 10:24:56 GMT
So because of a shady ebayers need for good feedback (long story) I got my hands on a Turbo tracks early. Didnt get any dire4ctions with him but hes straightforward enough. I jumped at the opertunity to grab him as Tracks is one of my favorite g1 autobots
Tracks is a very nice update of his G1 alt mode. Not sure if its still a corvette but if we have a gear head in the house they can tell me.
The tribal flames on the hood are a lot nicer then pictures would lead one to believe and they retain the basic shape of Tack's classic flame decal (something returning for the united release twitter tells me)
He has a flying car mode just like his g1 self and just like his g1 self it seems a little tacked on.
A very nice touch is that the panel with the pegs for the missiles on the back can fold away when in car mode . When in car mode the missiles clip into 3mm clips under the doors
Transformation is easy enough but some nice touches such as the way the head is revealed. The torso plate slides up and the shoulder and head automorph out .
In robot mode tracks looks very like a combination of his on screen self and his original toy. In hand hes not nearly as chunky or short as pics would lead us to believe.
His face seems to be a scaled down version of the Alternator head
Theres supposed to be a rub symbol on his chest but because mine came from a less then reputable scource its missing .
the shoulder rockets plug into 3mm clips on his shoulders (his hand gun also has a clip but I'll get into that in a sec)
Articulation is good with ball jointed shoulders and head, double hinged elbows, wrist swivels, waist swivel, ball jointed hips and hinged knees. The feet are also ball jointed.
Back to the gun clip. This is actually for the repaint of this toy which will be Wheeljack the gun is molded to look like wheeljack shoulder rocket and clips in nicely to the post on either shoulder.
A quick pic of what tracks looks like as the toy will be arranged for wheeljack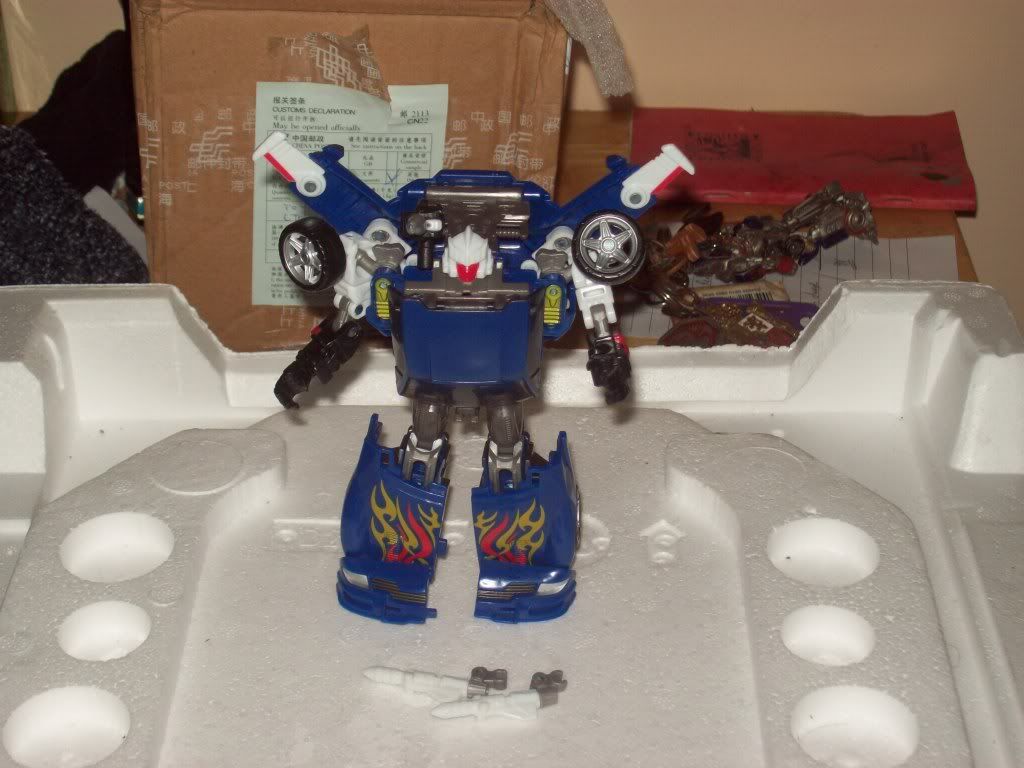 In my opinion this may be the supierior use of the mold .
So in conclusion Tracks is a worthy addition to your C.H.U.G. shelf my only real nit pick is that the back of the car can be fiddly to get to stay locked in. I may spring for the united version cause im a fan of old school Tracks 8/10