Post by Potatoprime on Jun 7, 2011 9:53:53 GMT
The second of the new limbs for Bruticus. Munitioner takes some of his design cues from each of Swindles previous imaginings.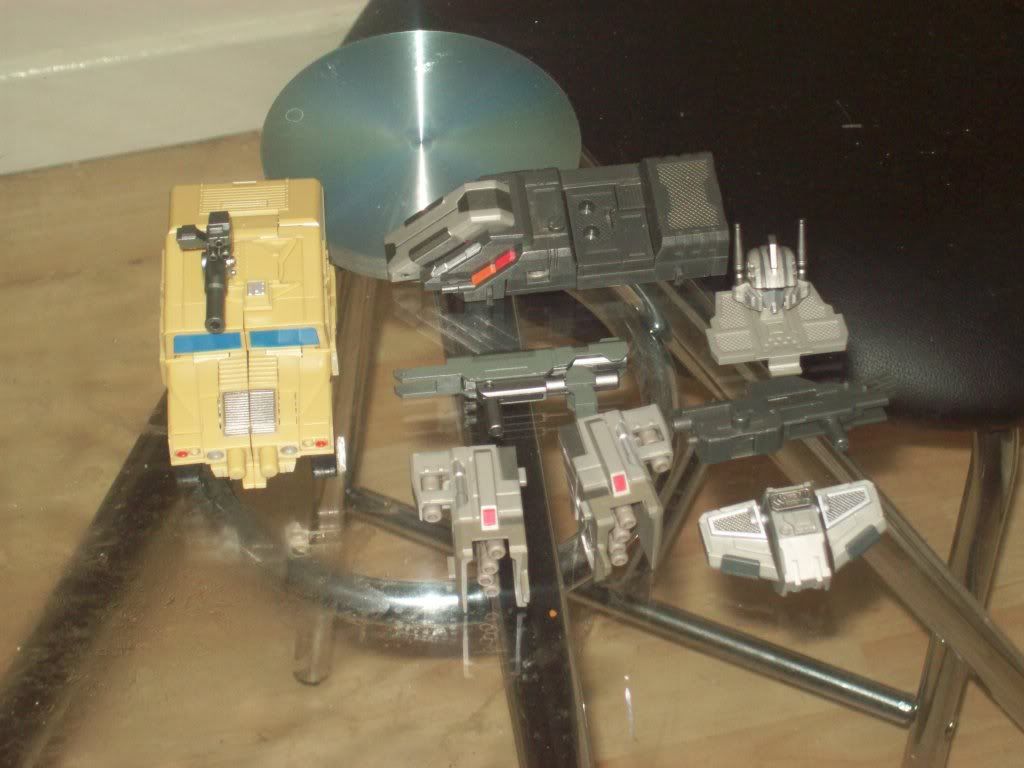 Like Explorer, Munitioner comes with an appendage add on set. Set B this time. This includes.
: Right foot
: Two multi barreled missile launchers
: A grenade launcher
; A small machine gun
: A head for the combined robot
: A giant robot crotch (no... seriously)
As with the Explorer, Munitioner comes packed in his alt mode so once again that is where I shall begin.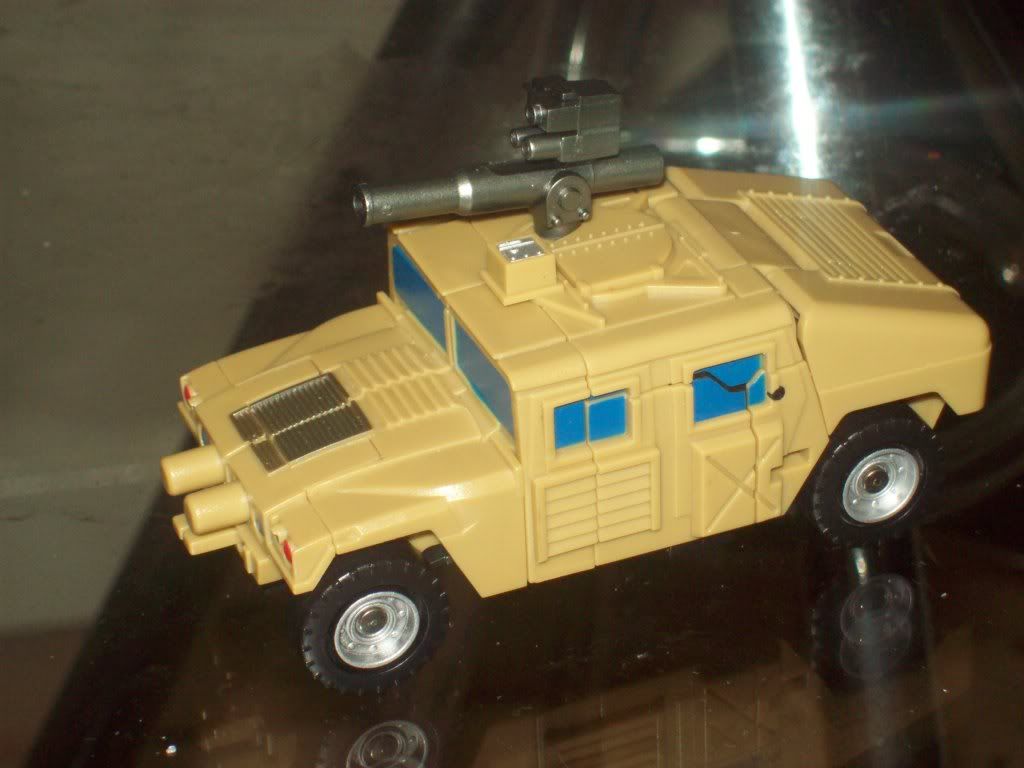 Munitioner is a tan Humvee much like the animated version of the character.
Like explorer the alt mode is extremly well detailed with rivets and panel details all molded in. Headlights,windows,hubcaps and engine vents have all been painted rather nicely. A gun metal paint has been used on the small cannon attached to the roof of the vehicle. This cannon is removable and can be replaced by some of the weapons packed with this set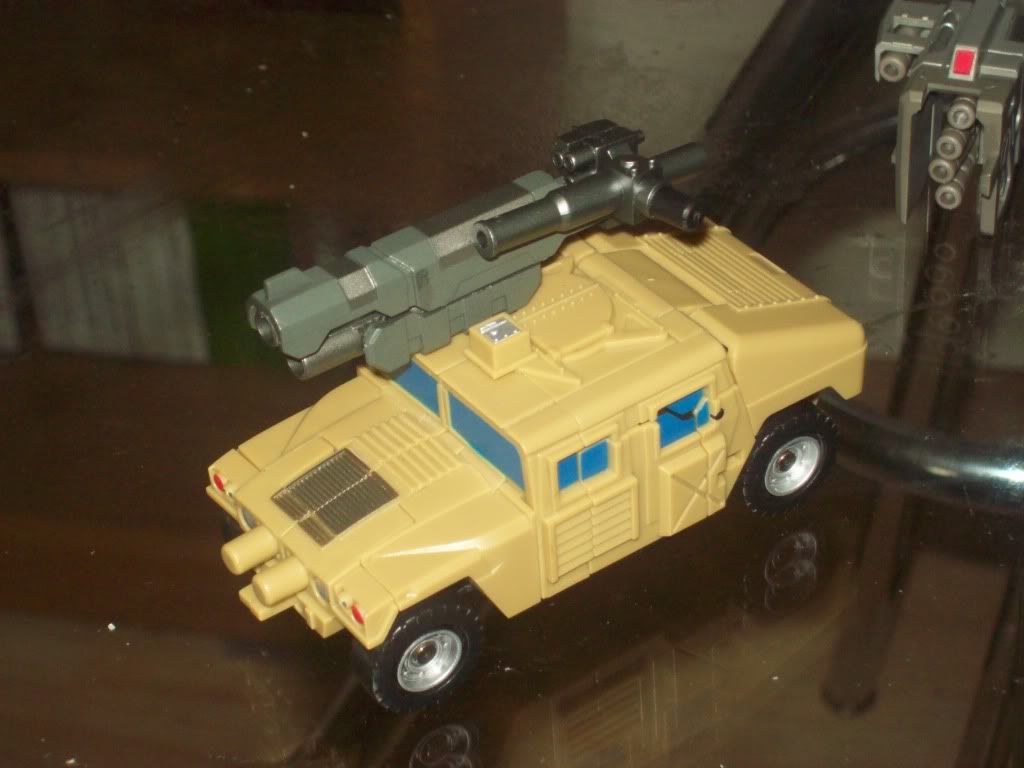 Personally i prefer how this looks as it seems more in keeping with G1 Swindle
Transoformation to robot form is a much simpler task then Explorer feeling more like a traditional G1 conversion. All the panels have tabs to keep them tight in vehicle mode and this can lead to some force being needed to get them out for robot mode. This is particularly true in the feet. A nice touch is the way they made the backpack collapse into the figure to reduce the back kibble.
A word of warning though. Do not close the chest panel completely as its a royal pain to open again for robot to vehicle oweing to the tightness of the seam
Again like Explorer, Munitioner shines in his robot form. A whole host of new colour is revealed in the chest, upper legs and head. Style wise the design asthetics seem to be a nice mix of the G1 figure and Swindles more recent IDW portrayal
The head is well sculpted and characterful with a smile/smirk molded in. Its worth mentioning that the eyes are not purple out of the box but red like Explorer. I had to paint them to bring out their inner swindleness.
Articulation wise Munitioner shares all of Explorers poseability. The ball joints in the ankles are particularly effective as they allow some great poses whilst keeping his feet flat on the ground. The neck joint isn't quite as expressive as the Exlorers but It still works well enough.
Munitioner can also make use of the guns from the add on kit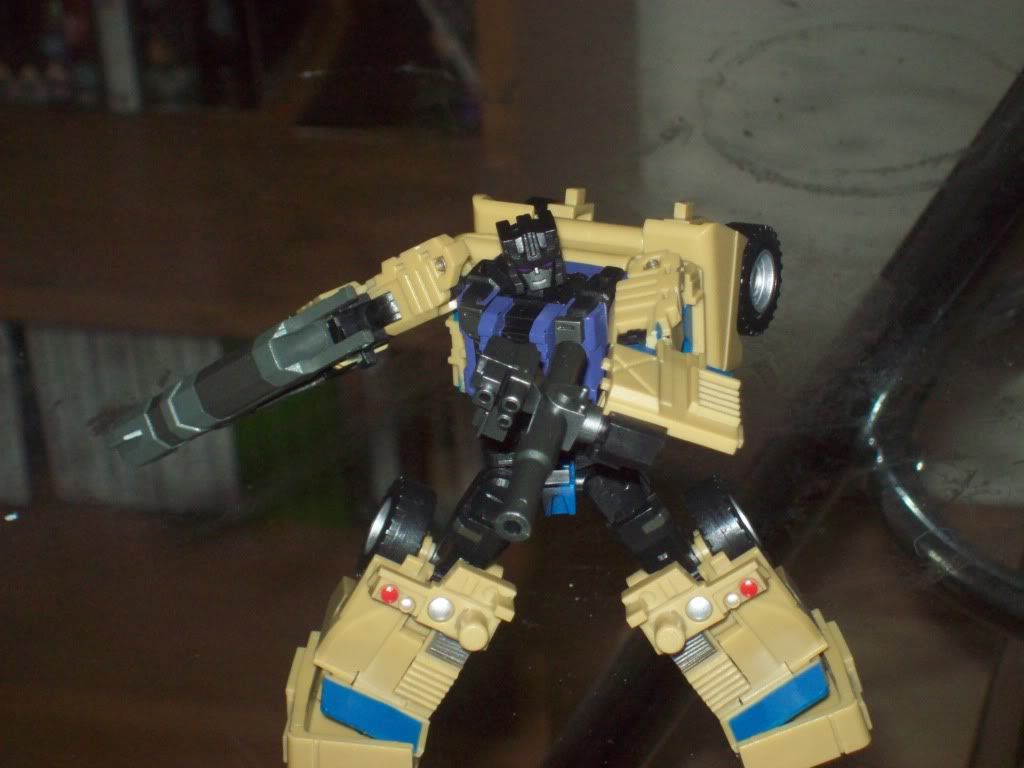 I quite like to give him the grenade launcher as it reminds me of his G1 arm cannon.
As with Explorer the price tag on this guy is hefty. He does have the added draw of being Swindle (and lets face it who doesn't love Swindle ?) He is, however a less complex figure. As with Explorer his value for money drops significantly if you dont posses some incarnation of the Bruticus Maximus set.
In my opinion though he is worth the price of admission.
Once again I give this figure 9.5/10
Coming up next BUTIC...I mean COLLOSUS